James Welling
17 May - 31 Aug 2012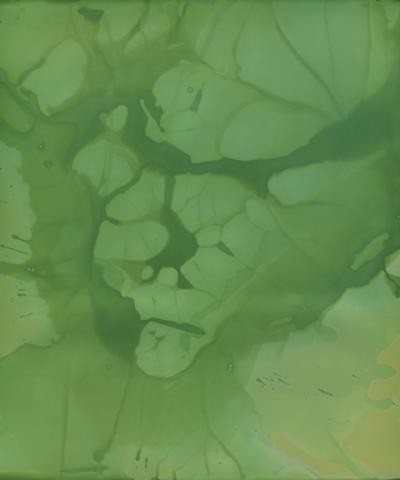 © James Welling
012, 2012
Archival inkjet print on Canson Baryta Photographique paper
48 h. x 40 inches (121.9 x 101.6 cm), image size
57 h. x 49 inches (144.8 x 124.5 cm), framed
JAMES WELLING
17 May – 31 August 2012

The Donald Young Gallery is pleased to present a solo exhibition of new photographs by James Welling.
Featuring two bodies of work, the exhibition includes new concepts in subject and process. Water describes the select group of water photograms that stem from Welling's investigation into the effects of cameraless pictures. By wetting paper in the dark and exposing it to light of a color enlarger, the artist has created an image in relief from blue dye. Indirectly related to the experimental films of Phil Solomon, the various flirtations Welling employed evoke a threedimensional image. Recently exhibited at the Wadsworth Antheneum in Hartford, Connecticut (2012), the second series of work on view pays homage to Andrew Wyeth and his significant influence on Welling's practice. Aptly titled "Wyeth", the group of seventeen works consists of Wyeth's sites, subjects and studio in Chadds Ford, Pennsylvania and Cushing, Maine. Capturing interior and natural compositions, Welling emphasizes the profound beauty found in domestic and geographic regions of Wyeth's space. Describing the photographs as a rediscovery of Wyeth's work for him and his audience, Welling frames books, doorways and landscapes that transcend material and medium previously established by the iconic American painter.
Born in 1951 in Hartford, Connecticut, James Welling studied drawing and painting at Carnegie Mellon University in Pittsburgh before transferring to the newly formed California Institute of the Arts. At Cal Arts Welling earned both a BFA and an MFA. Welling was included in the historically significant exhibition, "The Pictures Generation" at the Metropolitan Museum of Art in 2009, the 2008 Whitney Biennial at the Whitney Museum of American Art, and the Minneapolis Museum of the Arts in 2010. Retrospectives of his work have been held at the Wexner Center for the Arts in Columbus, Ohio and at the Palais de Beaux Arts, Brussels 2000-2002. In Fall 2012, Welling will exhibit at Milton Keynes Gallery, UK, and in 2013, The Cincinnati Art Museum and the Fotomuseum Wintertur Switzerland will present a major survey of the artist's career from 1947-2012.
The artist lives and works in Los Angeles.