Josiah McElheny
23 Jun - 17 Aug 2007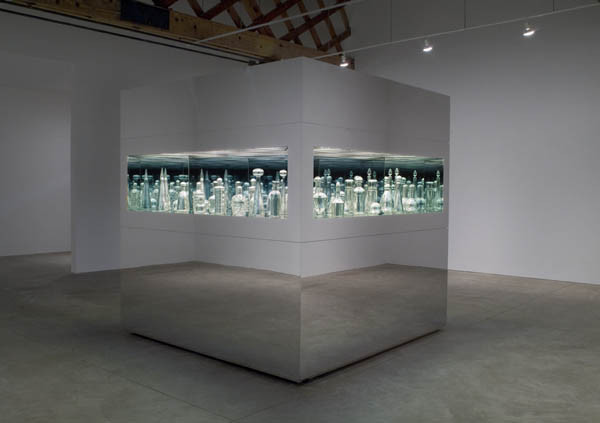 © Josiah McElheny
Endlessly Repeating Twentieth Century Modernism, 2007
Hand-blown mirrored glass, low-iron and transparent mirror, metal, wood, electric lighting
94 1/2 h. x 92 3/4 x 92 3/4 inches (240 x 235.6 x 235.6 cm)
JOSIAH McELHENY
"Cosmology, Design, and Landscape-Part Two"

Opens Saturday June 23, 11:00 am - 5:30 pm

Donald Young Gallery is pleased to present Cosmology, Design, and Landscape-Part Two, an exhibition of four new sculptures by Josiah McElheny that explore the legacies of twentieth century modernism. Part One, in September 2006, featured a large-scale sculpture and film that linked mid-century theories of the universe's origins to period design. Part Two presents a foreboding vision of endlessly repeating modernist design objects and imagines the idea of urban/industrial landscapes remade as a totally reflective aesthetic utopia. These works attempt to realize the attraction and horror of the modern ideal: a perfect world of objects and architecture.
Endlessly Repeating Twentieth Century Modernism (2007) presents the viewer with a seemingly infinite repetition of reflections of modernist design, captured inside an eight-foot metallic cube. This is the largest and most complex work in McElheny's series of sculptures that attempt to depict the capitalist notion that all objects are eternally repeatable, that everything can be remanufactured endlessly without regard to era, geography, or culture. The cube is wrapped on four sides by mirrored bays containing a collection of decanters, vases, boxes, and bottles based on designs from c. 1910 to c. 1990. These reconstructions of modernist products from Scandinavia, Italy, the former Czechoslovakia, and Austria are mirrored on their interior surface; the dense reflections repeating again on the objects' exteriors, seemingly engraved on the objects themselves. One-way mirror and lighting within the sculpture's bays create trails of repeated reflections that extend infinitely toward the illusion of its dark center. As the quintessential modernist form, this cube shaped sculpture has no front or back, no beginning or end. It is a seductive but ultimately menacing picture of infinite production; a hallucinatory, inescapable vision of objects designed to reflect and shape individual identity.
Over the past four years, McElheny has produced a series of works based on a conversation between Isamu Noguchi and Buckminster Fuller that took place in 1929. The conversation led to a proposal for an aesthetic utopia: a world of form without shadow, totally reflective forms inhabiting a totally reflective environment. Part Two features three sculptures inspired by this vision that take the form of architectural-scale model landscapes. Using the vocabulary of Noguchi's designs for modernist parks, playgrounds, and plazas, and Fuller's ideas for the redesign of urban/industrial landscapes, they each imagine a completely mirrored world. Vistas of buildings, factories, and stadiums are rendered in polished mirrored glass forms resting on angled mirrored planes that extend out from the wall. In Scale Model for a Totally Reflective Landscape (Arena), Scale Model for a Totally Reflective Landscape (Towers), and Scale Model for a Totally Reflective Landscape (Industry) surfaces became liquid, fugitive, distorting themselves and their surroundings. These works depict an extreme version of modernist architectural ideology in which the material qualities of reflection are thought to promote the notion that capitalism embodies the needs, desires, and hopes of the community.