Rodney Graham
10 Oct - 14 Nov 2008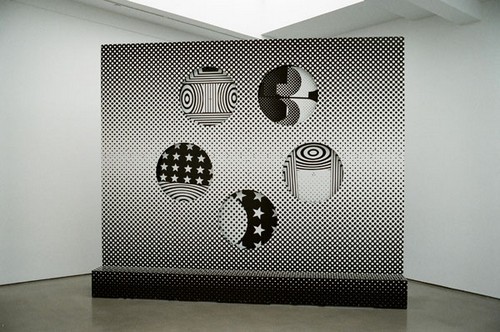 © Rodney Graham
Rotary Psycho-Opticon, 2008
Silk-screened aluminum, plastic panels, aluminum, steel, leather, rubber
120 x 144 x 72 inches
Edition of five and One Artist's Proof
RODNEY GRAHAM

Opening Friday, October 10, 2008

Donald Young Gallery is pleased to announce an exhibition of new work by Rodney Graham. In his new large-scale lightbox diptych Dance!!!!! Graham continues his fascination with the myth of the American West. The image depicts a cliché from countless Hollywood Westerns: a man being forced to dance in a saloon by another man, six-gun in hand, shooting bullets at his feet. Playing the role of the 'old-timer' compelled to perform the jig, Graham is suspended, clicking his heels in mid-air to avoid the shots fired by a 'liquored up young hot-head.'
Also in the main gallery is the kinetic sculpture entitled Rotary Psycho-Opticon, a replica of a freestanding kinetic op-art sculpture used as a backdrop for a performance by the band Black Sabbath on Belgian television in the early 1970s. By physically recreating what is essentially a readymade sculpture, the artist slyly examines fantasy as it relates to optical perception; the psychedelic patterns and movement of the sculpture itself mirroring the dreamlike haze a fan might be drawn into when imagining his favorite icons. Furthering this notion, Graham has used the sculpture as a backdrop for his own band's live performances.
Possible Abstraction Pair 2, 2007-2008, presents two almost identical lacquer abstract compositions on wood panels. The paintings are part of a larger series, which proposes different combinations of the same elements. The work was inspired by a cartoon Graham found in a 1950s men's pulp magazine, where two persons are standing in front of almost identical caricatured representation of two abstract paintings by the artist "Picado" made about 40 years apart. One man says to the other: "If You Ask Me, His Earlier Paintings Were Much Better." This sketch also inspired a silkscreen edition that accompanies the work.
Also included in the exhibition is a suite of 13 oil paintings that debuted at the 2008 Biennial of Sydney. In these modestly-sized color-filled abstractions, Graham again performs a kind of historical re-enactment in which he plays the archetypal mid-century School of Paris painter. Referencing the rich impasto of this school, the paintings are paradoxically both satirical and reverential.
Rodney Graham was born in Vancouver in 1949 and his work can be found in a number of public collections worldwide, including the Museum of Modern Art, the Centre Georges Pompidou, and the Metropolitan Museum of Art. Solo exhibitions include a retrospective in 2004-05 that toured North American venues as well as a European touring exhibition in 2002. He has participated in landmark exhibitions, representing Canada at the Venice Biennale in 1997, and exhibiting at documenta IX in 1992 and at Sculpture Project Muenster in 1987.