Eddie Martinez
Studio Wall
13 Oct 2017 - 04 Feb 2018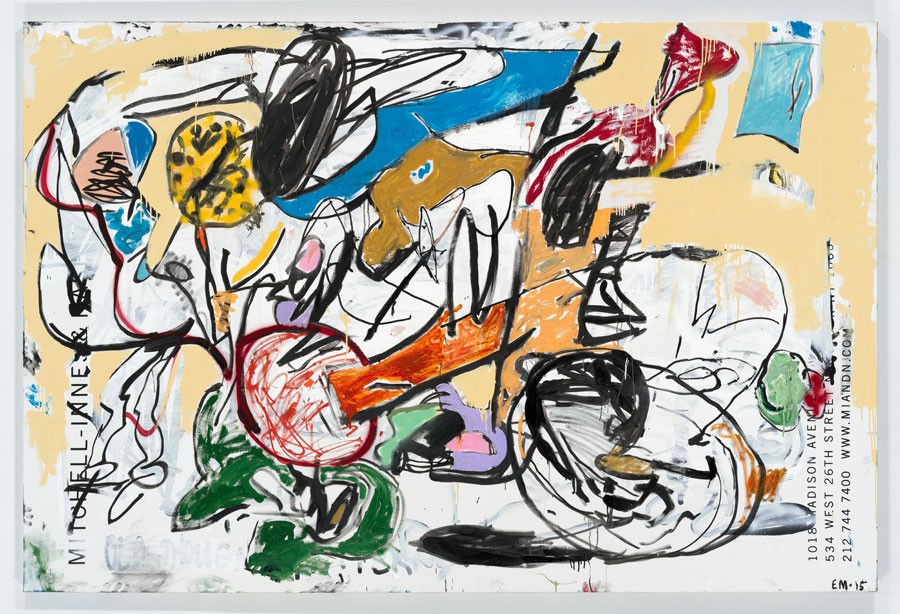 Eddie Martinez
Sound Bath, 2015
Oil, acrylic, silkscreen ink, and enamel on canvas
72 x 108 inches
Collection of Ellyn & Saul Dennison
EDDIE MARTINEZ
Studio Wall
13 October 2017 - 4 February 2018

Eddie Martinez's drawing practice blends seamlessly with his daily life as the New York-based artist carries pen and paper with him on the subway, to the doctor's office, and to restaurants and lectures, among other work and leisure events. Stylistically evocative of mid-century abstraction, Martinez's drawings bring their own complexity, plugging a rotating cast of characters into raw, vigorously-drawn landscapes: cartoon ducks, oversized eyes, coiled snakes, and anthropomorphic blocks of color are among his itinerant motifs. In his Brooklyn studio, Martinez maintains a "drawing wall," wherein sketches ranging in size, shape, and material serve simultaneously as a source of inspiration and a data bank for the artist's incessant imaginative output. The Drawing Center's forthcoming exhibition Eddie Martinez: Studio Wall, will bring the drawing wall to the museum. The artist will paper the gallery with thousands of sketches that he will change throughout the exhibition's run. In addition, several large drawings and paintings will be hung on top of these sketches allowing viewers to observe the interconnection between all aspects of Martinez's practice.

Organized by Claire Gilman, Chief Curator.

Eddie Martinez: Studio Wall is made possible through the support of Beth DeWoody; Jeannie and T Grant; Barbara Toll; Bruce and Robbi Toll; Liz and Jonathan Goldman; Ian & Serge Krawiecki Gazes; Craig Nerenberg; Carole Server and Oliver Frankel; and Schuster Tanger.

Special thanks to Mitchell-Innes & Nash, New York, and Timothy Taylor Gallery, London.

Image: Eddie Martinez, Untitled, 2015. Silkscreen ink, oil paint, spray paint and enamel on canvas, 72 x 60 inches. Courtesy of the artist, Mitchell-Innes & Nash, New York, and Timothy Taylor Gallery, London.