Mark Barrow
23 Sep - 30 Oct 2010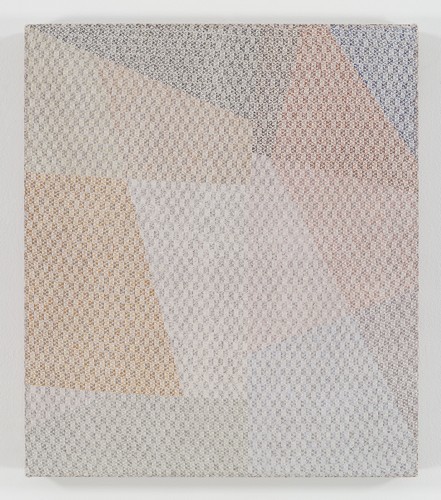 © Mark Barrow
MWM, 2010
Acrylic on Hand-Loomed Linen
23 x 20 inches (58.4 x 50.8 cm)
Textile by Sarah Parke
MARK BARROW
September 23 – October 30

Elizabeth Dee is pleased to announce the gallery's first exhibition of work by Mark Barrow.

Positioned in postmodernism's vacuous wake, Barrow mines diverse formal elements as he circumspectly crafts an open-ended practice. Skeptical of modernism's linear reductiveness, however, Barrow resists a reactionary, nostalgic return to any formalism.

Barrow's expansive works revolve around the structure and geometries of weaving, both as material substrate and conceptual framework. Working on hand-loomed linen that his wife Sarah Parke fabricates, Barrow methodically applies paint corresponding to Parke's pattern. This collaborative gesture is emblematic of the entire process, a free flow of information and marriage of forms. Just as the distinction between image and object dissolves with each dot placed, so too do the boundaries between antithetical ideas. The empirical and the accidental, the mechanical and the handmade, the systematic and the intuitive are all conflated in a complex matrix.

Despite this density of accumulated content, Barrow's paintings indulge in neither quotational reference nor historical critique. Barrow's works are straightforward and their process transparent. Painted dot by dot, like a textile, they are made left to right. Color shapes, following a preparatory sketch, are altered as they are painted and warped by the uneven stretching of the linen, but are never erased or repainted. The process is time-lapsed alla prima.

This consistency is also paralleled in the works' titles. Taking the 'naming' of the paintings at face value, Barrow titles each work with three letters. Aside from serving as the paintings' initials, the three letters also allude to the dissemination of information in contemporary vernacular; for instance, ticker symbols, airport codes and text messages. Though not explicitly referring to any pre-existing abbreviation nor preoccupied with discernability, Barrow derives each title from a word, a phrase, or the visual equivalency of linguistic and painted forms. As a result, the titling mirrors the rest of Barrow's process: candid in its implementation, but variegated in its meaning.

Mark Barrow graduated with an MFA from Yale in 2006. His paintings were first exhibited in New York at the 2007 White Columns Annual selected by Clarissa Dalrymple and he has since exhibited in numerous group shows. This is his first solo presentation at the gallery and his second solo presentation in New York following his 2008 White Columns White Room show under the direction of Matthew Higgs.