Ryan Trecartin and Lizzie Fitch
11 Apr - 16 May 2009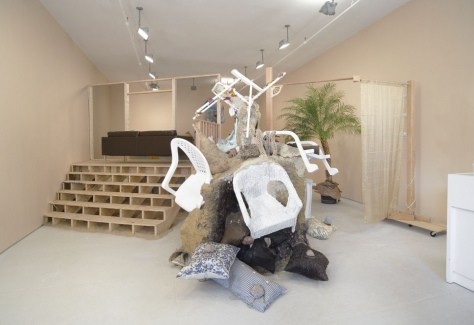 © Ryan Trecartin and Lizzie Fitch
The Aboutthing (in the air), 2009
Mixed media installation with sound
Dimensions variable
RYAN TRECARTIN AND LIZZIE FITCH

11 Apr 2009 - 16 May 2009
Opening Reception: Saturday, April 11, from 6-8 pm

Elizabeth Dee is pleased to present the gallery debut of collaborative work by Ryan Trecartin and Lizzie Fitch. The exhibition will feature a large-scale installation in the front gallery and a sculptural arrangement in the second gallery.
Trecartin and Fitch have been working on their collaborative sculptural practice since 2006. Throughout their working relationship, they have continuously explored modes of production that push traditional notions of authorship and serve to further shift values surrounding the perception of individualized vs. group work. They often invite other artists for broader collaboration, as fabricators, consultants, and employees. Every mark belongs to its owner and is credited individually as well as a part of a collective activity.
In addition to their solo endeavors—Trecartin's videos along with installations and objects that relate to them; Fitch's sculptures and environments—the two have built an extensive body of work that merges their interest in technological developments along with society's increasing commodification of the mass-produced object and its effects. Their work approaches the object as an abject receptacle, as a highly detailed shell of a figure or dwelling, in so doing negating concepts of ownership through the metaphorical compression or collapse of the distinction between physical materials and the spaces that they establish.
The focal point of the exhibition is a multi-faceted installation entitled The Aboutthing (in the air). It features an aboveground swimming pool in which a plastic-Tupperware tower, a mass of patio furniture and an artificial beach are submerged. Inhabiting the rest of the main gallery space are blowing fans, dead palms, and a ladder draped with silicone rubber body casts. Developed and configured over the last year, the installation as a whole is meant to evoke a psychological oasis in the midst of a strange climate, a situation in part inspired by the dense collection of plastic and trash in the North Pacific, commonly referred to as the "Plastic Island," a popular Internet news item over the course of the last year.
Now, in the Sunroom, on view in the second room of the gallery, indexes a host of concepts and themes that represent the total embodiment of the artists' sculptural practice to date. The work articulates their thoughts on American identity, on shifts in atmospheric conditions, the evolution and questioning of the self, and the self-reflexive relationship between filming and being filmed. Produced and reconfigured repeatedly over the past two years, this installation has been a continuous resource and platform for the artists' practice as a whole.
This is Trecartin and Fitch's first solo gallery exhibition at Elizabeth Dee. In 2007, they presented the exhibition Big Room Now at the Crane Arts Center in Philadelphia, in association with Elizabeth Dee. In 2006, they also produced I Smell Pregnant at QED, Los Angeles. Installations of their work have been featured in Between Two Deaths, ZKM Center for Art and Media, Karlsruhe (catalogue); Present Future 2007, Artissima, Torino; and TIMER, La Triennale di Milano, Milan. They will participate in a group exhibition at Gio Marconi, Milan in May and a three-person show at the Migros Museum für Gegenwartskunst, Zürich (catalogue) in Fall 2009.