Afterimage: Intuition and Duration within the Space of Art
12 Apr - 02 Jun 2012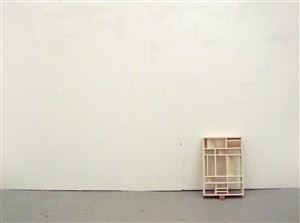 © Matthew Verdon
The rectangular plane should be seen rather as the result of a plurality of straight lines in rectangular opposition (Nos. 1 - 6)", 2010
Balsa and foamcore, Dimensions variable
AFTERIMAGE: INTUITION AND DURATION WITHIN THE SPACE OF ART
Curated by Alex Lawler and Frank Altmann
12 April - 2 June, 2012

Artists: Steffi Alte, Frank Altmann, Frauke Dannert, Robert Dowling, Marita Fraser, Marcel Frey, Jan Kiefer, Alex Lawler, Alexandra Navratil, Janine Tobüren, Matthew Verdon

This exhibition maps the ways that 11 young European artists build physical, semiotic and cultural languages that lead in and out of contemporary notions of abstraction. Articulated within each of these spheres of abstraction is a relational world that is fundamentally literal and emphasizes a departure not from historical notions of figuration, but from historical non-objectivity.

This applied notion of abstract vision echoes Henri Bergson's insistence of intuition over analysis and represents a position arising after an artist places themselves within the field of abstraction or inside the literalness of an object and turns back to face the world.

This exhibition posits that modes of perception and the mechanics of metaphysical vision serve as structural supports for abstraction in the same way as built structures support contemporary art culture. In this way, this group of artists reveal themselves through gestures that are both physically present and fundamentally conceptual.