Guy Tillim
29 May - 30 Aug 2009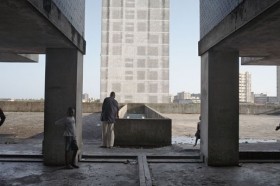 © Guy Tillim
Apartment building, Avenue Bagamoyo, Beira, Mozambique, 2008
Courtesy Michael Stevenson Gallery, Cape Town
GUY TILLIM
"Avenue Patrice Lumumba"

29 May - 30 August 2009

Foam presents a broad selection from Avenue Patrice Lumumba, the most recent project from the South African photographer Guy Tillim. In many African cities there are streets, roads and squares named after Patrice Lumumba, one of the first elected African leaders of the modern age. Lumumba won the Congolese election after independence from Belgium in 1960. He spoke out explicitly against a new neo-colonial order that would indirectly continue colonial domination. His reputation led directly to his murder by Belgian agents in January 1961. Today, his image as a nationalistic visionary is not tarnished by the many accusations of abuse of power that are so often synonymous with African leadership.
With clear, precise and engaged images, Guy Tillim focuses in this project on the modernistic architecture that is a symbol of the original optimism surrounding the idea of an independent post-colonial Africa. In 2008, the mostly decaying buildings represent the African inability to make Lumumba's dream a reality.
Guy Tillim started work on this project after receiving the first Robert Gardner Fellowship in Photography, awarded by the Peabody Museum of Harvard University. In addition to being exhibited by Foam, Avenue Patrice Lumumba will also be displayed by the Fondation Henri Cartier-Bresson in Paris, The Photographers' Gallery in London and Serralves Museum in Porto. A book accompanying the exhibition has been published by Prestel and is available in the Foam bookshop. Tillim is based in Cape Town and was previously a jury member for the KLM Paul Huf Award.