Richard Avedon
13 Feb - 13 May 2009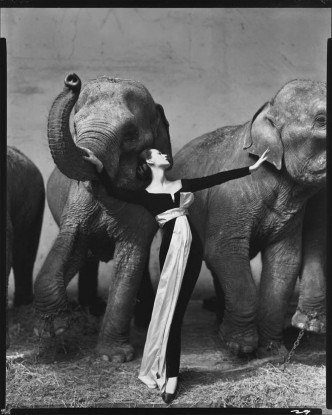 Richard Avedon
Dovima with elephants, evening dress by Dior, Cirque D Hiver, Paris, August 1955
© 2008 The Richard Avedon Foundation
RICHARD AVEDON
Photographs 1946 – 2004

13 February - 13 May 2009

Foam_Fotografiemuseum Amsterdam is on the tour schedule of the major retrospective 'Avedon Photographs 1946-2004'. Compiled in close cooperation with the Avedon Foundation by Denmark's Louisiana Museum, this exhibition appears at just six venues worldwide and can be seen at Foam from 13 February to 13 May 2009. It features over 200 works by Richard Avedon presented in chronological order, from his first photos made in Italy in 1946 to his final portraits, made shortly before his death in 2004. This is the first retrospective of his work to appear in the Netherlands.
The work of Richard Avedon (1923 – 2004) is a mile-stone in the development of fashion and portrait photography in the history of photography. His work remains very up-to-date considering the influence he still has on contemporary photographers. The exhibition Photographs 1946 – 2004 is not just the story of an important American Photographers' life but also shows the American history in the second half of the 20th century. In addition to the famous artists, writers and politicians the average man is also included.
The exhibition has been organized by The Louisiana Museum of Modern Art, Denmark, in cooperation with The Richard Avedon Foundation.