Géométries Sud, Du Mexique à la Terre de Feu
14 Oct - 31 Dec 2018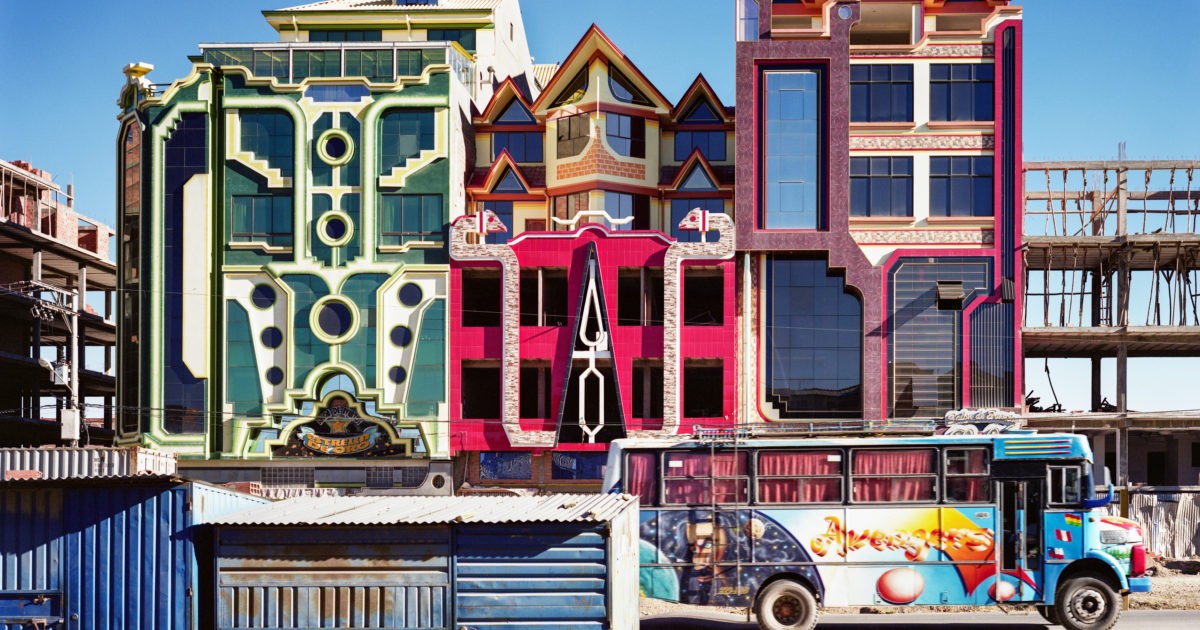 Cette œuvre a été réalisée grâce au soutien du musée du quai Branly – Jacques Chirac
Colorful bus passing in front of cholets under construction
Photo Tatewaki Nio
GÉOMÉTRIES SUD, DU MEXIQUE À LA TERRE DE FEU
14 October 2018

With the exhibition Géométries Sud, Du Mexique à la Terre de Feu, the Fondation Cartier pour l'art contemporain celebrates the wealth and colors of the motifs, forms and gures present in Latin American art. From popular to abstract art, from ceramics to body painting, sculpture, architecture and wickerwork, this exhibition plunges visitors to the heart of Latin American geometric abstraction, from the Pre-Colombian period to more contemporary creations.

Géométries Sud looks at artists who take their inspiration from the utopias of European Modernism, as well as those whose models and vocabulary are based on American Indian art. The exhibition creates visual links between these very different worlds and explores the recurrence of certain motifs over time and from one medium to another. For the exhibition, Bolivian architect Freddy Mamani has created in the spaces of the Fondation Cartier a fantastical ballroom, thereby transcribing the colorful, geometric iconography of the Tiwanaku culture to the French capital, as well as the ambiance of popular Andean festivals. Géométries Sud brings together the artworks of several key figures from the world of Latin American art. The delicate aerial sculptures by Venezuelan artist Gego may be seen alongside the abstract, minimalist paintings of Cuban artist Carmen Herrera. A multitude of historic and little-known artworks enter into a dialogue: the large canvases of Brazilian painter Luiz Zerbini and the ceramics by Mexican artist Francisco Toledo resonate with the Paraguayan textiles from the Chaco region, the body art of the Caduveo Indians photographed by Claude Lévi-Strauss, and the photographs of architectural features taken by Colombian artist, Beatriz Jaramillo. Making use of this diversity of artworks and objects, Paraguayan architects Solano Benitez and Gloria Cabral have designed a unique and striking scenography especially for this exhibition, which reveals the similarities and connections, shifts and transformations of the geometric motifs present here.