Alice Ronchi
24 Oct - 21 Nov 2015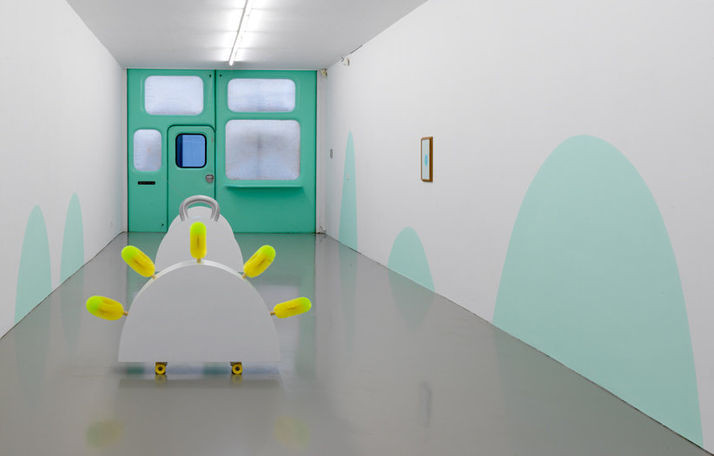 A Dinosaur Can Be Vain, 2015
Installation with 3 objects (wood, aluminium, cleaning sponges), framed drawing, wall drawing
photography by Gert Jan van Rooij
ALICE RONCHI
A Dinosaur can be vain
24 October - 21 November 2015

In Alice Ronchi's sculptures and installations, everyday life – the life we often try to grasp through reason and logic – meets the world of invention and fantasy. Ronchi's drawings, installations and videos show us that fantasy is just as much part of that reality as she consciously chooses to view surrounding everyday objects with the eyes of a fascinated child.

Her colourful, harmonious compositions combine a diverse range of elements, - sometimes existing artefacts, sometimes fashioned from found materials and objects. Ronchi often uses 'landscape' as a metaphor for the way different elements interconnect, the way they discourse with each other and the way they draw the viewer into their interrelating system. Utensils in her installation suddenly appear to have entirely different applications. For her installation 'A dinosaur can be vain' in the front space of Galerie Fons Welters, she directly refers back to a children's fascination with the extinct species that once wandered the earth. What if the dinosaur would like to change outfits, according to his mood and plans for the day? A story in which three interchangeable combs are executed from simple cleaning brushes, kitchen pipes and curtains, together they form a wardrobe for a vain creature. A setting that is simultaneously fantasy-like and absurd. As Ronchi writes: 'when the imagination chats with reality, it generates new answers'. And just as nouns can become subjects, objects can come alive. Ronchi's curiosity and fascinations are playfully infectious, and she stimulates the viewer to adopt this magical viewing to the dozens of objects in our daily live to be transformed into endless creatures.

Alice Ronchi (b. 1989) lives and works in Amsterdam and Milan. She graduated at Nuova Accademia di Belle Arti (NABA), Milan and graduated this summer at the department of Material Utopias at the Sandberg Instituut.