Berend Strik I.C.W. Juha Van 't Zelfde
18 - 19 Apr 2014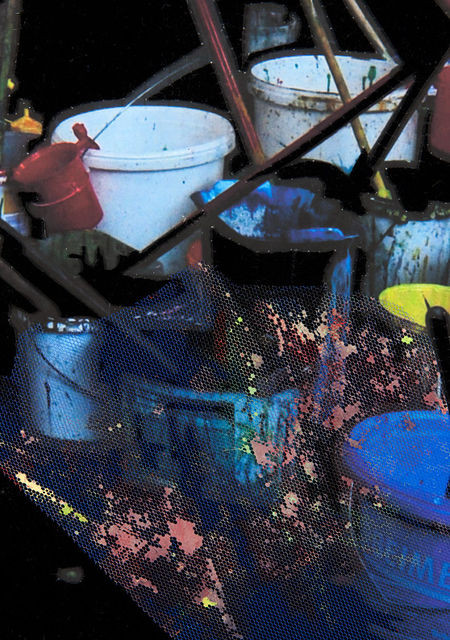 © Berend Strik
Decipher the artist's mind, painter's space (detail), 2013
photography Gert Jan van Rooij
BEREND STRIK I.C.W. JUHA VAN 'T ZELFDE
Exhibiting the Studio
18 - 19 April 2014

'Exhibiting the Studio' is a two day meeting, organized by artist Berend Strik and curator Juha van 't Zelfde, for which they invite artists, musicians and other 'makers' to unravel the role of the artist's studio, together and with the audience. The setting of this meeting is a temporary studio, built a.o. from works of the participants.

Since 2012, Strik has been working on a series of works on the artist's studio. In his typical style, Strik reworks his photographs of various studios in The Netherlands and abroad, with textiles and thread. It is the creative process and its elusiveness in the artist's studio which fascinate the artist.

Strik's visual research is continued in his collaboration with van 't Zelfde, questioning the position of the studio as a presumed prerequisite for making work. On the one hand, from a curiosity and enthusiasm for the way in which artists from different generations and disciplines work. On the other hand, from a critical attitude towards a dictatorial final product.

In Galerie Fons Welters, Strik and van 't Zelfde will hold Open House, on Friday and Saturday 18 and 19 April. Each hour they will invite a guest who will present his or her studio, or reflect on the subject from a specific background, including a.o. Hans Aarsman, Maria Hlavajova, Lyndsey Housden, Jonas Lund, Nanne de Ru en Rosa Juno Streekstra. Friday afternoon will be concluded with a special performance-lecture by Paulien Oltheten, Saturday evening with a musical performance by Knalpot.

'Exhibiting the Studio' is made possible by the Mondriaan Fund.