Dan Walwin
11 Oct - 15 Nov 2014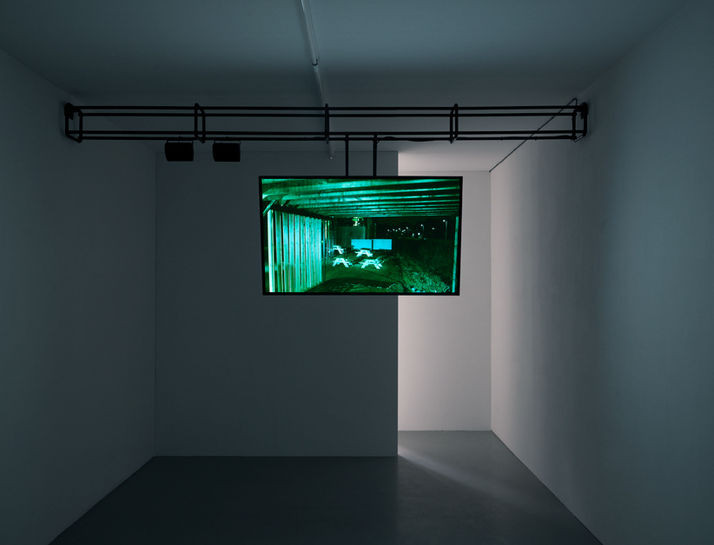 © Dan Walwin
Cess, jel ever terrass?, 2014
HD video, continuous loop, stereo sound, flatscreen monitor, speakers, painted steel
photography by Gert Jan van Rooij
DAN WALWIN
Cess, jel ever terrass?
11 October - 15 November 2014

In Dan Walwin's videos and installations, originating from (field) research and the result of rigorously constructed arrangements, a visual space is opened up, that is at once highly detailed and indefinite.
For his newest work "Cess, jel ever terrass?" in Galerie Fons Welters' Playstation, Walwin used a motion controlled camera to execute a precise choreography. The smooth gliding back and forth within the scene lock it inside a hypnotic loop. Paradoxically, the high definition quality of the images seems to highlight the artificiality of the exhibited scene. The camera turns, closes in and pulls back again. And just like the soundtrack suddenly arises and disappears, these images keep resonating in an elusive way. Significantly, there is a question mark 'concluding' the curious title of the exhibition.


Dan Walwin (1986, UK) lives and works in Amsterdam. He studied at Goldsmiths College, London and was resident artist at the Rijksakademie, Amsterdam (2012-2013). Recent exhibitions include: 'Haperende Mens', Arti et Amicitiae, Amsterdam (2014); 'UTOPIA', Stedelijk Museum at Trouw, Amsterdam (2013); 'The Enormous Speed of Change', Hoog Catharijne/Utrecht Central Station, Utrecht (2013); 'tele-', P/////AKT, Amsterdam (2012). Walwin's work 'op' is currently on show in the exhibition: 'Out There - Video Art, New media & Photography on Landscapes in Public Space', Maastricht. Upcoming exhibitions and events: 'Marl Media Art Awards', Skulpturenmuseum Glaskasten Marl (2014); University of Greenwich Galleries, London (2014); V22, London (2014)

This exhibition was made possible with the financial support from Mondriaan Fonds, Amsterdam Fonds voor de Kunst, and generous permission and support from Amsterdam Science Park.