Francesca Burattelli
30 Jan - 12 Mar 2016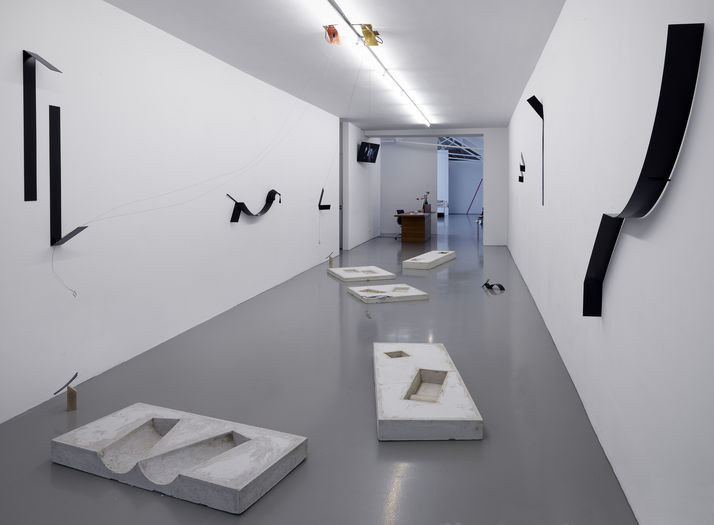 Francesca Burattelli, Waltz of the Matinées
Galerie Fons Welters, 2016
exhibition overview
Photography by Gert Jan van Rooij
FRANCESCA BURATTELLI
Waltz of the Matinées
30 January - 12 March 2016

Several concrete blocks are spread out on the gallery's floor, connected by thin copper threads forming a fragile web. At first sight they appear as a minimalistic sculptural display. Upon closer inspection, the concrete reveals imprints of bodily fragments: knees pressed into the cast; feet in an entangled movement or placed straight. Though the body itself is absent, it seems only a matter of time before it enters this display, to activate these threads into strings, to turn the concrete slabs into pedestals for actors in a musical composition.

Galerie Fons Welters is proud to invite you to 'Waltz of the Matinées' an exhibition by Francesca Burattelli in the gallery's front space. Last summer, the artist graduated from the Rietveld Academy, where she explored the role of the voice, the depth of sound, and the performer's body through performative installations. Now, for her exhibition at the gallery, she continues this exploration and reshapes the gallery space into a musical instrument. During the opening, Francesca has invited several performers - neither dancers, nor actors - who complete the instrument by literally becoming its body. In their bodily movements, the performers combine iconic poses of pop-stars with those of antique statues of heroes and gods. Poses one readily recognizes by now as almost generic stage moves, copied by thousands, as immortalized acts of strength. As the performers leave, a room filled with possible instructions and tones remains.

[LC]

Francesca Burattelli, born in Piombino, Italy, 1988 and currently lives and works in Copenhagen, Denmark. She graduated from the Rietveld Academy in 2015.