Dove Allouche
22 Mar - 07 May 2016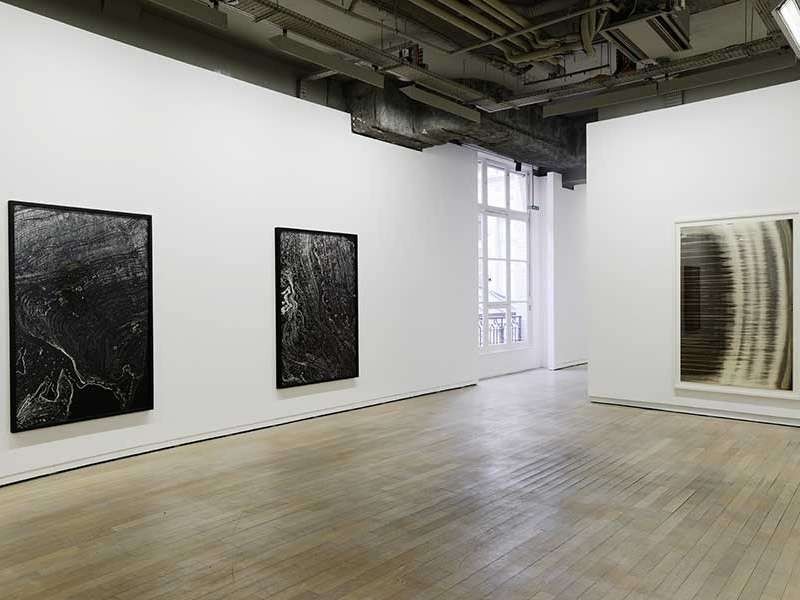 Dove Allouche
Mea Culpa d'un sceptique, exhibition view
Photography : Aurélien Mole / Fondation d'entreprise Ricard

DOVE ALLOUCHE
Mea Culpa Of a Sceptic
22 March - 7 May 2016

Curated by Kate Macfarlane

The Fondation d'entreprise Ricard is pleased to present the exhibition of Dove Allouche.

Dove Allouche's new body of work is informed by his interest in parietal art, an extension of his fascination with earth's primordial elements. Using fugitive materials and processes associated with both drawing and photography, Allouche produces artworks that capture the passage of time, and that in their unfolding wrestle with the mysteries of the earliest forms of image-making.

'Mea Culpa of a Sceptic', the title of the exhibition, is taken from a paper written by the eminent Palaeontologist Emile Cartailhac, in 1903, after he visited the Altamira Cave in Spain to see the cave paintings. In the paper he admits his considerable role in refuting, over a period of more than two decades, the possibility that these accomplished works could have been produced by our 'primitive' Ice Age ancestors. Once Cartailhac admitted his mistake, he pursued his study of the findings and altered the ensuing course of art history.

Taking this story as a starting point, Allouche has employed characteristically innovative forms of image production to pursue the possibility of the fabrication process itself generating the imagery, bypassing the lens of the camera and avoiding authorial gesture. In line with his pursuit to bring to light visual material that is hidden or buried, much of it for thousands of years, these new series of works make visible stacked up time. Seeking not to reproduce things in the world Allouche uses a range of techniques, including those beyond fine art, to make visible this slice of calcite, or that spectral rainbow.
Kate Macfarlane, February 2016

"I must bow to the reality of the facts (...). Our current lighting techniques make it somewhat difficult to pierce the darkness of these galleries, to shed enough light on sufficiently broad expanses of wall to clearly show silhouettes of the age of a mammoth or reindeer, and it is all the more astonishing to realise that they were drawn with undeniable sureness of hand, with a certain stylised technique that is also characteristic of small engraved images on bones and pebbles. It must have been the case that the cave-dwellers were more used to seeing in such half-light than we are today. It was because I failed to take that into account that I had my share in a mistake made twenty years ago and an injustice that I must now clearly admit and for which I must make amends".
Émile Cartailhac, "La grotte d'Altamira, Espagne. Mea culpa d'un sceptique", L'Anthropologie 13, 1902, p. 348-354.

The project has been selected for financial support by the FNAGP's patronage commission.

Also, in Drawing Room, London, groupshow with Dove Allouche, Double Take, from April 14th until June 5th, 2016.