Félicien Marboeuf (1852 - 1924)
03 Jun - 11 Jul 2009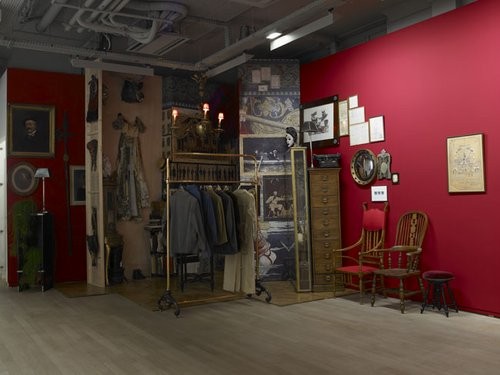 © Christian Lacroix
"Le cabinet de Félicien Marboeuf", 2009
Installation, Courtesy Christian Lacroix; Photo Marc Domage
FÉLICIEN MARBOEUF (1852 - 1924)

Curated by Jean-Yves Jouannais

June 3 - July 11, 2009

With Luc Andrié, Gilles Barbier, Alain Bublex, Isabelle Cornaro, Nicolas Darrot, Olivier Dollinger, Christophe Duchatelet, Jean-Baptiste Ganne, Dora Garcia, Franck Gérard, Guy Girard, Jakob+MacFarlane, Christian Lacroix, Perrine Lievens, Pascal Martinez, Nora Martirosyan, Antoine Poncet, Pascal Quignard, Alain Rivière, Antoine Roegiers, Denis Savary.

Félicien Marbœuf, a writer known during his lifetime as "the greatest writer never to have published," was imagined by Jean-Yves Jouannais in his essay Artistes sans œuvres, I Would Prefer Not To ["Artists without Works, I Would Prefer Not To"]. The exhibition is a commemorative project around the figure of Marbœuf, and brings together art works from all disciplines (plastic arts, literature, fashion, music, architecture...), thus giving shape to the imaginary existence of the character.
In 1997, Editions Hazan published an essay by Jean-Yves Jouannais titled Artistes sans œuvres, I Would Prefer Not To ["Artists without Works, I Would Prefer Not To"]. Re-edited in April 2009 by Editions Verticales, the book tells the apparent paradox of artists who produced little to nothing, from Félix Fénéon to Jacques Vaché to Jacques Rigaut to the representatives of conceptual art, from Joseph Joubert's intuitions to Marcel Duchamp's principles.
In this serious work - as documented as is possible - a chapter is devoted to a fictional writer, Félicien Marbœuf (1852-1924). All that is known from his production is a correspondence with Marcel Proust, which is said to have exerted a decisive influence on the conception and the very writing of In Search of Lost Time. The correspondence was written by Jean-Yves Jouannais himself. Already, several artists have substantiated moments or entire chapters of this imaginary existence in the form of various portraits, documents, and tributes. Starting from these existing works, Jean-Yves Jouannais has designed an exhibition around the figure of Félicien Marbœuf, which has been overlooked for too long. About twenty artists, taking all disciplines into account, have accepted to participate in the commemorative project.
The exhibition aims to move beyond the historically recurrent category of the literary hoax. The hoax generally does not aspire to more than deceiving and misleading without producing anything else than a more or less stylish lie. While Félicien Marbœuf never existed under that identity, his invention in no way pertains to imposture, whether prankish or erudite. He very earnestly symbolizes all artists without works, just as the Unknown Soldier is saluted in the name of all the anonymous men killed in action.