Monsieur Miroir
21 Sep - 06 Nov 2010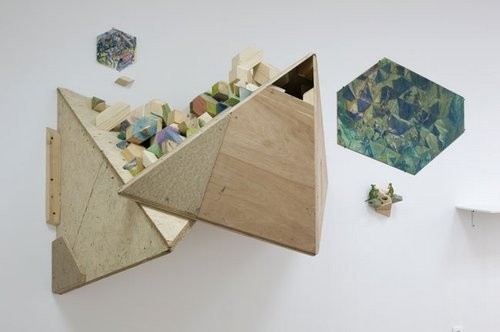 © Ernesto Sartori, "The Quest", 2009
wood, metal, plastic, paint glycero, 144 x 156 x 100 cm
Photo: Aurélien Mole, courtesy Marcelle Alix, Paris
MONSIEUR MIROIR

Curated by Emilie Renard for the 12th Ricard Foundation Prize

With Neïl Beloufa, Julien Bismuth, Isabelle Cornaro, Benoît Maire, Mick Peter, Soraya Rhofir, Ernesto Sartori, Jessica Warboys

The Fondation d'entreprise Ricard presents the exhibition Monsieur Miroir from September 21 to November 6, 2010. Emilie Renard, the curator of this 12th edition of the Prix Fondation d'entreprise Ricard, has brought together eight artists who, each in their own way, relate different media to one another (sculptures, drawings, paintings, films, texts, performances, etc.), make our view of an image, an idea, a meaning evolve. Indeed, "Monsieur Miroir" deceives the eye by initially reflecting only one side of things. Only in a general view on the proposition of each artist and in the progression of the exhibition does a panorama of correspondences, analogies and similarities emerge. "Monsieur Miroir": an exhibition that multiplies points of view and shifts the look.

Emilie Renard talks about Monsieur Miroir :
« Monsieur Miroir deceives the eye. He catches everything at a glance. In actuality, he reflects but one side of things, while many others remain inaccessible to him as he cancels out depth and merges planes to such a degree. Yet Monsieur Miroir always shows himself in a good light: he represents analogy, personifies it even. He is the common point of view, the effective tool that reveals correspondences between artists as well as within each of their propositions. He is the site of hypothetical visual coincidences between visibly heterogeneous elements, the only point of passage between the eight artists featured in the exhibition. Each of them articulates a diversity of media, passing on forms, images, signs, and data from a perceptive order to another. Their works then become the scenes of equivalences and slippages of meaning according to different modes - similarities, adaptations, translations, codifications, deteriorations, echoes, reverberations, thereby also testing the resistance or the instability of a source until its complete metamorphosis. Displaying their successive shifts, the works thus leave behind any notion of original; accordingly, it is never possible to know where things begin and where they end in the exhibition. This is where Monsieur Miroir intervenes, the savior of the situation: he brings a transitional unity to variety, confirming that no original is needed for reflections to be visible. One might as well say that the entire exhibition holds in his eye, so marked by associations is his reasoning, in the shortcuts of his flat retina. Come and see Monsieur Miroir ».