«Paris», 18th Prize Fondation D'Entreprise Ricard
05 Sep - 29 Oct 2016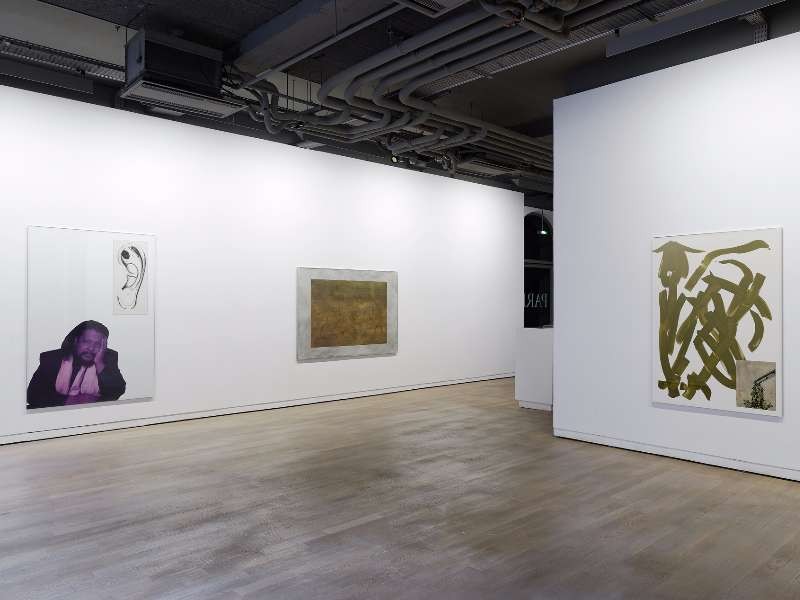 Will Benedict, Don't Worry. It's Too Late To Worry 2016
Tyrone Hayes 2016, Rage Farmer Rage Profiteer 2016. Photography : Aurélien Mole / Fondation d'entreprise Ricard
«PARIS», 18th PRIZE FONDATION D'ENTREPRISE RICARD
Anne Imhof, Clarisse Hahn, Clément Cogitore, Julien Crépieux, Louise Sartor, Marie Voignier, Mélanie Matranga and Will Benedict
5 September - 29 October 2016

Curated by Isabelle Cornaro

The Fondation d'entreprise Ricard will present its eighteenth annual prize this coming autumn, curated by Isabelle Cornaro.
The prize exhibition, featuring works by eight artists displayed in the Foundation's own premises and the adjoining cinema, highlights not only the diversity of artistic practices on the modern art scene but above all the prevalence of contemporary iconography drawing on images bearing some relation to current affairs or simply marked by the information circuit. The artists also share a fascination with the original context of the forms they work with and how they are transformed in and through the work of art. They can be said to share an interest in montage, both in the actual process of editing – for instance, using framing devices to pin down bodily movements or retain only material essential to the narrative – and as alterations to temporal continuity, questioning how narrative segments are arranged in succession. The works on display, whether films, static visual art, performances, or installations, are thus on the cusp between capturing movement and pinning it down, between representation and incarnation. In this sense, they meet a desire to create visual situations.


The 18th annual Fondation d'entreprise Ricard Award Ceremony

The Fondation d'entreprise Ricard Prize will be awarded on October 21, 2016. The jury members are art collectors, patrons of major contemporary art museums, and the curators of previous Fondation d'entreprise Ricard Prize exhibitions. The prize consists of the purchase of a work by the winning artist, which is then donated to the Pompidou Centre where it is put on show in the permanent collection. The Fondation d'entreprise Ricard also finances a personal project involving foreign travel for the winning artist.

Biographies

Anne Imhof, born in 1978, is a German artist who divides her time between Paris and Frankfurt. She is a graduate of the Städelschule in Frankfurt am Main. Anne Imhof works on performance in a broad field with a particular perspective that takes account of how the practice is documented and transmitted as part of her broader consideration of the relationship between audience, event, and documentation. The result is an approach that lends performance a range of forms of visibility in time and space, such as drawing, installation, and video. She is represented by the Deborah Schamoni Galerie in Munich and Isabella Bortolozzi in Berlin.

Clarisse Hahn, born in 1973 in Paris, where she now lives and works. She completed a master's degree in Art History at the Sorbonne before studying at the École des Beaux-Arts in Paris. Her films, photographs, and video installations share a common thread of research into communities, codes of behaviour, and the social role of the body. She is represented by the Galerie Jousse Entreprise in Paris.

Clément Cogitore, born in 1983 in Colmar divides his time between Paris and Strasbourg. He studied at the École supérieure des arts décoratifs in Strasbourg and the Fresnoy-Studio national des arts contemporains, where he developed an artistic practice that is part cinema, part contemporary art. His work, combining films, videos, installations, and photographs, explores how men cohabit with their images. Recurring themes in his work are rituals, collective memory, figuring the sacred, and a certain idea of the permeability of worlds. He is represented by Eva Hober gallery, in Paris and Reinhard Hauff gallery in Stuttgart

Julien Crépieux, born in Normandy in 1979 and lives and works in Paris. He is a graduate of the École des Beaux-Arts in Montpellier. Julien Crépieux's work in the form of film, installation, and collage offers the viewer highly original appropriations of images, films, texts, and music, hijacking their format to create works suffused with their own formal and poetic dimension. He is represented by the Galerie Jérôme Poggi in Paris.

Louise Sartor, born in 1988, lives and works in Paris. She graduated from the École Nationale Supérieure des Arts Décoratifs in Paris in 2012 and the École Nationale Supérieure des Beaux-arts in Paris in 2015. Louise Sartor captures images, photos stolen from short-lived starlets or commercial pages of advertising. Light and fragile, her paintings testify of a big accuracy which comes to counterbalance the violence of the torn supports. Inhabited with anonymous appearances, as random reflections, her work seizes the energy of a moving time. She is represented by gallery Crèvecoeur, Paris.

Marie Voignier, born in Ris-Orangis in 1974 and lives and works in Paris. She worked in photography before graduating from the École des Beaux-arts in Lyon in 2004, since when the majority of her work has been in video. Her first feature-length film L'hypothèse du Mokélé-Mbembé was released in 2012. Her work is shown at both film festivals and arts venues. She is represented by the Galerie Marcelle Alix in Paris.

Mélanie Matranga, born in Marseilles in 1985, lives in Paris, where she studied at the École nationale supérieure des Beaux-Arts (ENSBA). Mélanie Matranga's drawings, sculptures and videos combine signs gesturing to interiority and elements associated with social attitudes and habits. Together they compose sites where singularity appears to dissolve into commonality and where intimacy is stripped and laid bare. She is represented by the Galerie Karma International in Zurich.

Will Benedict, born in 1978 in Los Angeles. He lives and works in Paris. He is a graduate of the Art Center College of Design, Pasadena (2004) and the Frankfurt Städelschule (2006). Will Benedict's oeuvre consists of juxtaposing reality and images, two parallel worlds that, paradoxically, often come into contact, nourished by broader considerations on the possibility – or impossibility? – of mediate, mediated, and media images. He is represented by the Galerie Balice Hertling in Paris, Bortolami in New York, and Dépendance in Brussels.