Nul
15 May - 21 Jun 2008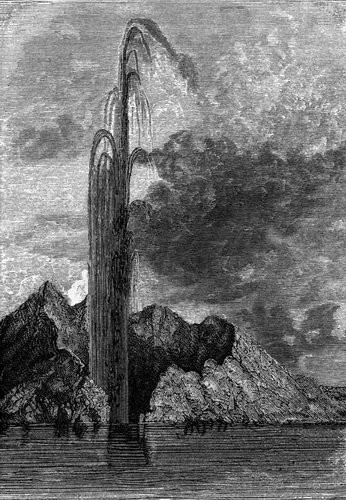 © Salvatore Arancio
Fluid Throbs Violently Burst Into A Frenzied Roaring Pool of Slush, 2006
photo etching on paper
44 × 38.5 cm.

NUL

May 15 - June 21, 2008
Opens May 15 6:00 PM - 8:00 PM

SALVATORE ARANCIO
ANDERS CLAUSEN
DICK EVANS
VALIE EXPORT
SIMONE GILGES
LARS LAUMANN
NEDKO SOLAKOV

Curated by DICK EVANS

Foxy Production presents Nul, a group exhibition curated by London-based artist Dick Evans. Nul brings together seven European artists, including Evans, Salvatore Arancio, Anders Clausen, VALIE EXPORT, Simone Gilges, Lars Laumann, and Nedko Solakov, whose work relates in differing ways to loss, reduction or vacancy. Combined, the works in Nul produce an uncanny sense of dissolution.
Salvatore Arancio's photo etchings depict bizarre natural phenomena in strange ancient landscapes. Collages of the old and new, they trade on the aesthetic pleasures of visual histories. They embody a fantasy of Gothic nothingness that is underscored by a surreal desire.
Anders Clausen's sculptural heads on wooden pedestals elicit a curious familiarity, with their combination of the allegorical and the historical. His zombie-like figures have reduced their art historical references - to Jacob Epstein, Ben Nicholson, and Dieter Roth - to a humorous yet subtle amalgam.
Dick Evans' Plexiglas boxes - titled by their dimensions - consider the possibility of absolute zero. These almost empty vitrines contain remnants of works that have been abandoned by the artist, left to gather dust in a corner of his studio for a year. Hygiene products, wax, candles and dust produce landscapes of comic emptiness that are at once a portrait, an environmental calendar, and an image in negative of his studio.
VALIE EXPORT's sculpture Dead People Don't Scream pointedly references an existential interpretation of nothingness, visualizing the experience of an emotion so extreme that a face becomes a terrifying vacuum. Her photographic series, untitled, presents stony figures intertwined with angular architectural structures, creating a dynamic tension between the construction of identity and its dissolution.
Simone Gilges produces very particular and concise arrangements of photographs and objects. For Nul, Gilges places re-photographed images, fabrics, and found objects in enigmatic relationships with one another. She presents a constellation that is mysterious, monstrous, conjured and ethereal. The work's elements coalesce in a psychological scene of both curiosity and closure.
Lars Laumann's Hatful of Cocteau is a screen-print of an article from an issue of La Liberation devoted posthumously to Jean Cocteau. It includes an image of a man with an illustration from the artist's publication Le Livre Blanc tattooed on his shoulder; the same image was also used on Morrissey's Hatful of Hollow album cover. Laumann's work focuses on how images and objects can act as both romantic connectors and empty ciphers.
Nedko Solakov's Personal Parts drawings combine body parts with poetic writing about them, engendering strange insights into the human body as a whole. Simultaneously comedic, macabre and enlightening, they are dark fables about people reduced to their elements.
Salvatore Arancio lives and works in London. He has exhibited at Collective Gallery, Edinburgh (2008); Bloomberg Space, London; Herald St, London (both 2007); and The Courtauld Institute, London (2006).
Anders Clausen lives and works in London. He has exhibited at Hats Plus, London; Ibid Projects, London; and Galerie Rüdiger Schöttle, Munich (solo) (all 2007).
Dick Evans lives and works in London. He has exhibited at James Cohan Gallery, New York; and Maureen Paley, London (both 2007). Between 2001 and 2004 Evans spearheaded the curatorial project The Ship. He is represented by Maureen Paley, London.
VALIE EXPORT lives and works in Vienna. She has exhibited widely since the 1960s. Recent exhibitions include the Venice Biennale, Moscow Biennale (both 2007), and a solo exhibition at the Centre National de la Photographie, Paris (2003). VALIE EXPORT is represented by Gasser & Grunert in New York.
Simone Gilges lives and works in Berlin. She has exhibited at Frankfurter Kunstverein (solo) (2005) and is a founding member of Honey Suckle Company (HSC). Exhibitions with HSC include Kunstverein Hamburg-Harburg, (2007) and Kunsthalle Basel (2006). She currently has a solo exhibition at Galerie Giti Nourbakhsch, Berlin, where she is represented.
Lars Laumann lives and works in Olso, Norway. He is exhibiting in the current Berlin Biennial and has shown at Maureen Paley, London; and White Columns, New York (solo) (all 2008). He is represented by Maureen Paley, London.
Nedko Solakov lives and works in Sofia, Bulgaria. Solo exhibitions include Kunst Museum, Bonn (2008); Kunstforum, Vienna (2007); and the Kunsthaus Zurich (2005). Solakov is represented by Galerie Arndt & Partner, Berlin and Zürich.