Des années de poudre recouvrant des années de jaune
26 Feb - 26 Mar 2011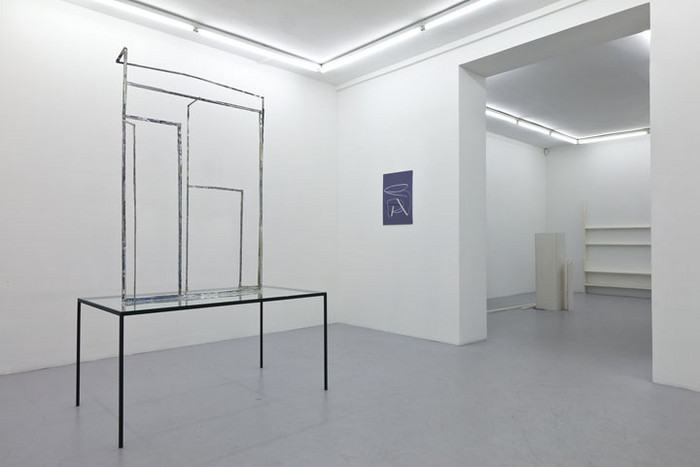 View of the exhibition Des années de poudre recouvrant des années de jaune
galerie frank elbaz, Paris, from February 26th to March 26th, 2011
© Zarko Vijatovic
DES ANNÉES DE POUDRE RECOUVRANT DES ANNÉES DE JAUNE
Sara Barker / Jesus Alberto Benitez /Mélanie Blaison
Curated by Gyan Panchal
26 February – 26 March, 2011

Sara Barker, Jesus Alberto Benitez and Mélanie Blaison pay particular attention to the presence of material.
The exhibition takes place on the edge of sculpture, when it subsides and becomes almost a model or a drawing of itself. The object then becomes pictorial. It embodies its own construction, even if it's frail.

Like the remnants of a former painting, Sara Barker's sculptures seem to barely stand. An object in the making surfaces through the assembly of the lines, whose painted material forms the very structure.

Jesus Alberto Benitez's photographs and drawings put together an escape plan from the plane. A drawing board and a desk are the spaces from which drawn lines escape. Elsewhere, both spontaneous and precise, the line slides off the surface of the paper and becomes concrete again.

It is only after a while that Mélanie Blaison's sculptures reveal the clues of a common origin. Casts of found objects, fragments from the impossible reconstruction of a place, caught by its own replica, into a landscape of plaster.

The title of the exhibition is borrowed from Jean Louis Schefer in discussing Martin Barré's work.

Gyan Panchal

Sara Barker : born in 1980 in Manchester, UK. Lives and works in Amsterdam, Netherlands.
Exhibitions (selection) : 2010 : Images, Mary Mary, Glasgow, UK (solo) ; Sara Barker / Jessica Rankin, Carlier Gebauer, Berlin, Germany (solo) ; 2009 : FOUR, Dublin, Ireland (solo) ; 2008 : Present Future, Artissima Art Fair, Turin, Italy.

Mélanie Blaison : born in 1981 in Nancy, France. Lives and works in Paris, France.
Exhibitions (selection) : 2010 : Mouvement des atomes mobilité des formes, Quai Malaquais, ENSBA, Paris, France ; 2009 : National Fine Art Diploma Graduation, with honors, ENSBA, Paris, France ; 2008 : 21.59*27.94 Lettre à Bernard, Galerie Miss China Beauty, Paris, France.

Jesus Alberto Benitez : born in 1978 in Valencia, Venezuela. Lives and works in Lyon, France.
Thanks to Centre photographique d'Île-de-France for the production of works by Jesus Alberto Benitez presented in the show.
Upcoming : Presentation of the project created during his residency in Centre Photographique d'Île-de-France, Pontault-Combault, Tuesday, March 1st, 2011, at 7pm.
Exhibitions (selection) : 2010 : Sommerrundgang, Kunstakademie Düsseldorf, Germany ; 2009 : L'évocation documentaire, European month of photography, Bratislava, Slovacia.