Pablo Vargas Lugo
30 Jan - 14 Mar 2010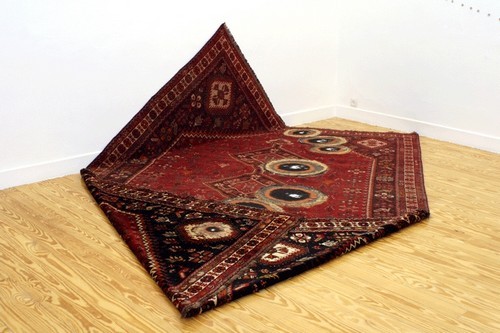 © Pablo Vargas Lugo
"MARIPOSA BAJO ALFOMRA (Qashgai - Morfo menelaus)", 2010
Alfombra Qashgai, polvo de marmol y pigmento acrílico
90 x 330 x 228 cm
PABLO VARGAS LUGO
"Eclipses Maximum"

Jan. 30, 2010 / Mar. 14, 2010

Solar Maximum

For his second solo show at Fúcares Gallery, Pablo Vargas Lugo has collected a group of works that connect astronomic observations with entomologic ones. These three pieces, all of them conceived for the gallery's space, accurately reflect the interests that have fuelled the work of this artist all throughout his career, with a marked turn towards new media and formats.

The central piece of this show is a series of over 500 coins (Ecliptic, 2009) from 52 nations, carefully cut and welded to bring forth a sequence of numismatic eclipses. Superposed, the different face values, aspirations and emblems depicted on each coin shadow one another and associate faces of old dictators with heraldic fauna specimens, or heroic exploits with devalued currencies. The viewer will be forced to follow this sequence along the walls of the gallery, updating the old mythologies of the sun and the moon by effect of the symbols, mottos and characters represented in each of the eclipses.

Two further pieces make up the exhibition and also allude to shadowing phenomena in different scales and contexts. Eight Flags (Galileo, 1612) is a group of flags from Japan and Bangladesh, two countries whose respective situations place them in opposite poles of development in almost all senses. They share, however, this characteristic that the flags of both bear the representation of a rising sun. This sole point of contact serves the artist to use them as the support for eight embroideries based on the drawings of sunspots created in 1612 by Galileo Galilei based on his seminal observations.

Vargas Lugo's interest in mimetic and/or daunting patterns present in the animal kingdom has to do with the way in which evolutionary processes bring about images whose origin goes beyond a will of representing anything. In this case, he uses the back of a soft and luxurious Persian carpet in order to occupy it with a depiction of two fake butterfly eyes. The carpet, a product of a millenary legacy and of hundreds of hours of careful design and handcraft work, lends its place to an older representation of lineage, but not completely dissociated from the former.

Pablo Vargas Lugo. (Mexico City, 1968) He completed studies of visual arts at the School of Visual Arts of the National Autonomous University of Art of Mexico, UNAM. He has presented solo exhibitions in the Blanton Museum of Art, in Austin, at Los Angeles County Museum of Art and at the Carrillo Gil Museum in Mexico City. His work has been displayed at the 26th Sao Paulo Biennial and the 5th Mercosur Biennial, as well as at institutions like the Reina Sofía Art Centre in Madrid, the PS1 in New York, the UCLA Hammer Museum in Los Angeles and the Contemporary Art University Museum in Mexico City, among others.