Simeón Saiz Ruiz
02 Feb - 26 Mar 2013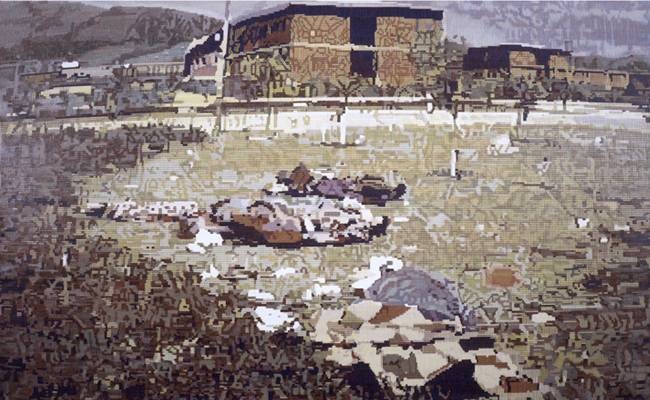 © Simeón Saiz Ruiz
Cadáveres de presos muertos en los bombardeos de la OTAN contra la carcel de Istok ( Kosovo), mayo de 1999", 2010
Óleo sobre lienzo
250 x 404 cm
SIMEÓN SAIZ RUIZ
2 February - 26 March 2013

The Fúcares gallery_Madrid is pleased to present the eighth solo show by Simeón Saiz Ruiz (Cuenca, 1956).

"J'EST UN JE" (END) AND "FLOWERS, LAUGHTER AND POWER" (BEGINNING)

"There is no more flower light / Cover yourselves with mould, the heavens / (I'm not speaking for enemies / But to you, friends) / ... / Sealed with wax / The victory is mature / Nothing matters to us anymore / The sun lies at our feet with its throat slit! / ... / -We have torn out the Sun with its fresh roots / They smell of arithmetic, greasy, / Here it is, look at it! 1

Let's look. Whereas Alberti said that a painting should represent people of all ages and conditions, in my exhibition there will be paintings that span the entire range of possibilities in terms of the nature of the pictures. There are those based on real documents (television images) and those based on fictitious documents (other paintings). There will be pictures taken directly from reality-in their own way, all these pictures are records of something real translated into painting codes-and images that only exist in and of themselves. Fictitious images will be missing.

The absence should stand out noticeably, because I want to address the real, not simulations. I am aware of the important blend of fiction and non-fiction in the art production of recent years, which forces us to take a stand in this regard. My stance is that interpretation of reality is already a fiction. It may address a real world or a fantasy world. Imagination entertains us, but what we need to change is the real world. We can fictionalize it partially so as to make it more habitable and thus use it so as not to see what it is made of, and especially so as not to know how it may change.

There are two series in this space, one that ends and another that begins. The times with their own waves of transformations are what compel the changes. I am not going to dwell on the effects of the economic crisis or the loss of credibility, not to mention the legitimacy, of politics, and the sensation of the dictatorship of capital. The two series blend together in the exhibition and I hope something unique is born of their dialogue.
I have been working with the pictures of the victims of the Balkan Wars since before 1996. Its end is an arbitrary decision. It would not be if I no longer had left in my archive of the period any pictures more that could be made into paintings. In any case, the last painting is the one I have always imagined as a closing. In it one hardly distinguishes a person in the middle of the ruins of a city among whose rubble one can barely discern human remains. I hope that, as Foster says of Warhol, not only does the conjunction reveal the representation of the traumatic, but it also produces its effect in the spectator. The imagery in this series is very dramatic, although it is intended that viewers do not reject the paintings for this. The location of these events is not very far away, yet it is a different place.

The series that is beginning consists of a heterogeneous set of pictures, still in formation. Now the drama, of another kind, is here. That is why I aim for the pictures to express, to the contrary, the happiness and jubilation of men and women when they succeed in living in a dignified manner. This sort of joy, its very existence, can play a vital role in the realm of politics.

So, there are paintings of people laughing.

The combination of a victim of armed conflict and someone laughing, who also poses wearing what appears to be military attire, may ignite controversy. This is intended, although I hope they do not provoke fires of uncontrollable emotions. Rage against the laughing subjects, or against the artist, would be misguided, because these people are not laughing at the victims, nor do they have anything to do with their assassinations. They simply laugh because they are sentient beings with emotions. And theirs is the shared laughter of the public space, rather than that of the privately consumed spectacle.

Two different groups laugh. In one, there are real people, taken from pictures that have been published online of the demonstrations that took place during the Arab Spring in Egypt. They have a very specific reason for the joy they express, which looks to the future. In the other, fictional characters arrive to us from the past. This rendering draws on a painting by the Soviet painter Yury Mikhalovich Neprintsev (1909-1996), A Rest After Battle, of which there are three versions. The one dating from 1955, at the Tretyakov Museum, is the one I used. That painting, in turn, is based on another fiction, the poem Vassili Tyorkin by Aleksandr Tvardowsky (1910-1975), about a Russian soldier during World War II. I know little more of either. My relationship with the painting is limited to what one sees in a reproduction.

All the pictures are there to bear witness to the fact that even in drama and tragedy, the people involved are human beings. Flowers make manifest the exuberant nature of existence. The third thread in the new series is a combination of a painting of a garden full of flowers, a painting based on some sketches made in situ in a Polish city located on the road from Warsaw to Cracow, and a slide projects of that very road. It is not the first time that I have worked with the juxtaposition of painting and projected photographic images, which seems so obvious to me that I do not understand why I or other artists do not use it more often. Almost twenty years ago I presented a multiple projection of pictures that were also taken en route, together with copies of self-portraits by Rubens and St. Anguisola. A friend told me that when he saw my copy of Rubens' work he thought I had gone crazy. And another asked me why I had not paid someone to paint the copies. They brought to light the reasons why people paint. The painter paints precisely in order to go crazy, that is, to do what no one expects of him, and because he likes doing it. Painting a garden full of flowers is also crazy.
For the exuberant flower there is no guilt accompanying what it does to exist. But man falls to one side or the other, with the executioner and guilt or with the victim and helplessness. We can strive to bring about life without executioners or victims, that is, to bring about life.

Painting can do little. But it may do something. Flowers grow close to the railways that transported the victims from the ghettos to the extermination camps. This power to grow despite the surroundings could be seen as indifference. But perhaps it could also be seen as the fight for existing with dignity, in all its fragility and defencelessness.
Perhaps we are fortunate that flowers, poetry and painting continue to exist after Auschwitz.

SIMEÓN SAIZ RUIZ

1 Kruchionij, Alekséi; Victoria sobre el Sol (Victory over the Sun), 1913, translated into the Spanish by Yana Zablaka, in Aleksandr Deineka [1899-1969] Una vanguardia para el proletariado (An Avant-garde for the Proletariat), exhibition curated by Manuel Fontán del Junco, Juan March Foundation, Madrid 2011, pages 313-18.