Alec Soth
20 Jan - 07 Mar 2009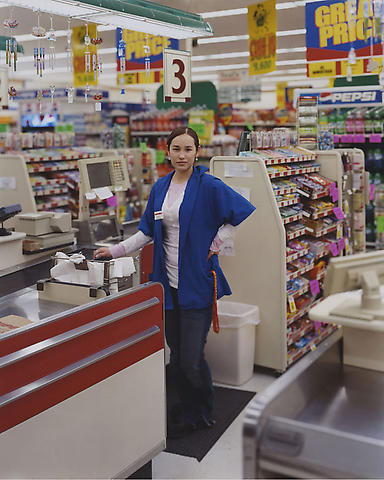 © Alec Soth
Dynell, Bemidji, MN (Girl in store), 2007
Chromogenic print
Image: 40 x 32 inches (101.6 x 81.2 cm)
ALEC SOTH
"The Last Days of W."

January 20 - March 7, 2009
Opening reception: Tuesday, January 20th (Inauguration Day). from 6 to 8 pm

980 Madison Avenue
New York, NY 10075

Henri Cartier-Bresson famously said, "The world is going to pieces and people like Adams and Weston are photographing rocks." But I don't think the world would have been a better place if these photographers had headed off to a war zone. The question is whether you can be a political photographer while you photograph rocks. My pictures don't have a specific social commentary but I think they have social and political meaning.
--Alec Soth

Gagosian Gallery is pleased to present "The Last Days of W.," color photographs taken by Alec Soth between 2000 and 2008.
Although originally conceived without explicit political intent, in retrospect Soth considers this selected body of work, which spans both terms of George W. Bush's presidency, to represent "a panoramic look at a country exhausted by its catastrophic leadership." Soth's earlier series such as "Sleeping by the Mississippi," "NIAGARA," and "Dog Days, Bogotá" – all subjective narratives containing disenfranchised figures and decaying landscapes -- laid the conceptual groundwork for "The Last Days of W." It provides a wry commentary on the adverse effects of the national administration, perhaps best exemplified by an unwittingly ironic remark that Bush made in 2000: "I think we can agree, the past is over."
Following in the humanist tradition established by the great chroniclers of the American experience such as Walker Evans, Robert Frank, and Stephen Shore, Soth captures diverse images of a country disillusioned with, and deceived by, its own identity, from mothers of marines serving in Iraq to teenage mothers in the Louisiana Bayou; from religious propaganda in the American workplace to the mortgage crisis in Stockton, CA. His incisive depiction of contemporary American reality confronts the ideals romanticized in the American Dream with the hastening decline of the American Empire.
A color newspaper of the exhibition, conceived and published by Soth, will be available during the exhibition.
Alec Soth was born in 1969 in Minneapolis, MN. His work has been featured in prominent group exhibitions including the Whitney Biennial of American Art (2004), 26th Bienal de São Paulo (2004), the Des Moines Art Center (2005), Haus der Kunst, Munich (2006), and the Minneapolis Institute of Arts (2008). The survey exhibition, "Alec Soth: The Space Between Us" opened at Jeu de Paume, Paris (2008) and is currently on view at Fotomuseum Winterthur through February 10, 2009. Soth is represented in major public collections, including San Francisco Museum of Modern Art, Walker Art Center, Minneapolis, Whitney Museum of American Art, New York, and Museum of Fine Arts, Houston. He lives and works in Minneapolis, MN.