Anselm Reyle
17 Sep - 24 Oct 2009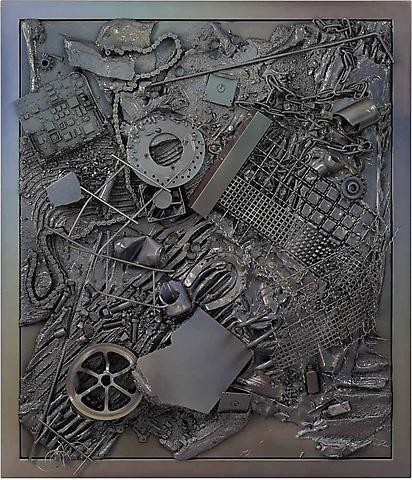 © Anselm Reyle
Untitled, 2009
Mixed media on canvas, steel frame, effect lacquer
58 3/8 x 50 inches framed (148 x 127 cm)
ANSELM REYLE
"Monochrome Age"

September 17 - October 24, 2009
Opening reception for the artist: Thursday, September 17th, from 6 to 8pm

Gagosian Gallery is pleased to announce "Monochrome Age," Anselm Reyle's first solo exhibition with the gallery.

Reyle finds inspiration in his immediate environment, from the typical socialist architecture that dominates much of the landscape of post-war Germany to the flea-market finds that signify the march of global capitalism. Conflating all manner of extant social artifact with motifs from the annals of recent art history, he imbues them with new vigor and decorative allure. He works with found objects from diverse cultural backgrounds, treating and displaying them equivalently and without further comment. By reifying the cast-off material culture that surrounds him, he indicates its shifting signification in a country that has had such seismic effects on the social and political developments of the twentieth century.

In his first major institutional survey at the Kunsthalle Zurich in 2006, provocatively entitled "Ars Nova," Reyle pointed to his interest in the epochal concept, a moment in time elected as the origin of a particular era. In the sequel "Monochrome Age," he offers a synthesis of modernism thoroughly subsumed together with the oppositional austerity of Arte Povera through his use of color (monochrome) and the specular power of reflective surfaces (chrome) as derivated from humble materials. White Earth (2009) reinterprets the neutral kaolin surface of Piero Manzoni's Achromes as a shiny, lacquered surface, the result of several elaborate production processes, while the physical ambiguity of the cast aluminum paintings is central to a reconsideration of the abstract sublime.

Reyle has designed "Monochrome Age" to create vistas in the vast white spaces of Gagosian Gallery Chelsea punctuated by pure color or pure reflectivity in the form of huge monolithic sculptures that embody his preoccupations with monumentality, economy of means, seduction, and desire. Eternity, a large, plinth-mounted sculpture directly inspired by an African tchotchke found in a local flea market, is enlarged then rendered to the point of fetishistic obsession using a lacquered patina normally reserved for cars. With a nod to Andy Warhol's transcendent Silver Clouds (1966), Straw Bales attests to an ongoing belief in the alchemical potential of banal materials whilst evoking diverse narratives, from the agrarian conditions of pre-industrial life to Rumpelstiltskin, the dwarf of German fairy tales who spun straw into gold. The modules comprising the massive works entitled Relief and Philosophy are both derived from design objects that Reyle found on the premises of the East German Robotron computer company. While Relief is "charged" with morphing LEDs to create a mesmerizing Op-Art effect like a giant lava lamp, Philosophy derives its perfect luster from chrome-plating, an industrial technique borrowed from the car industry.

The exhibition will coincide with the publication of a fully illustrated monograph published by Dumont, with essays by Laura Hoptman and Jens Asthoff and photographs by Hedi Slimane.

Anselm Reyle was born in 1970 in Tübingen, Germany and lives and works in Berlin. His work is featured in the Boros Collection, Berlin; DaimlerChrysler Collection; Rubell Family Collection; and Collection Francois Pinault. Recent solo exhibitions include "Ars Nova" at the Kunsthalle Zurich (2006) and "Licht und Farbe" (light and color) at the Neuer Aachener Kunstverein, Aachen (2004), and "Acid Mothers Temple" at Kunsthalle Tübingen in Germany (2009).