Elisa Sighicelli
14 Jan - 27 Feb 2010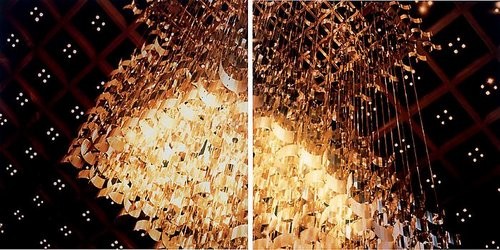 © Elisa Sighicelli
Untitled (Objectless Composition), 2009
Partially backlit C-print on lightbox
Diptych: 48 1/2 x 48 1/2 x 2 1/4 inches each (123.2 x 123.2 cm)
ELISA SIGHICELLI
"The Party Is Over"

January 14 - February 27, 2010

My works are mute and time is suspended, but light indicates a wish to communicate. It keeps a moment belonging to the past continually alive and present.
--Elisa Sighicelli

Gagosian Gallery is pleased to present an exhibition of new photographic works and videos by Elisa Sighicelli.

Using photography and video to oscillate between stillness and motion, Sighicelli scrutinizes ordinary things and incidental architectural details, heightening their intrinsic qualities to the level of near-abstraction. Her works explore, in metaphysical sense, places suspended in time and the spatial dynamics of architecture in cities around the world, while deliberately avoiding narrative structure. Combining elements from the material and immaterial worlds, Sighicelli's works reveal themselves both as still lifes and enigmatic apparitions.

Light is the real protagonist of the latest works. Used like a painter's palette, it acquires an almost sculptural quality that possesses the power of otherworldly revelations or minor epiphanies. The carefully crafted light boxes depict high-contrast compositions that recall the luminous details of Renaissance paintings. A photograph is printed by hand on matte paper rather than on the customary transparent film, then it is mounted onto a Plexiglas structure. Certain areas of the image are masked out by applying black paint to the reverse side while back-lighting other areas so as to manipulate light and shadow. Thus a distinct sculptural object eventuates in which light unites its second and third dimensions.

While Sighicelli's earlier works focused on details of domestic environments such as curtains and furniture, Untitled (Void), (2009) and Untitled (Empty Square), (2009) depict imageless billboards, blank ciphers in a world of communication overload. Yet her work is not limited to an ideological critique of the production of commercial imagery. Indeed, her photographs are imbued with the seductive jolt of commercial photography. The paradox, or challenge, of her work may indeed reside in how she attains that seductive jolt without resorting to tangible subject matter in her construction of spellbinding images based on abstract, or even prosaic, subjects, and in her subsequent transformation of non-space into place.

In Untitled (Grid), (2009), an arrangement of five light boxes, Sighicelli photographs the bamboo scaffolding that is a primary construction material in Asia from multiple angles. The sequence assumes an almost tactile presence as the fragmented photographic images meld with the radiant effects of light. In the video Untitled (The Party Is Over), (2009), fireworks explode against the night. Edited in reverse with an hypnotic rhythm that induces daydreaming, this video could be the depiction of a journey in the time machine. Just as Sighicelli's lightboxes draw on certain stylistic elements of film language, which the artist twists in new directions, so do her videos and films employ photographic techniques to create a sort of hybrid in which painting, cinema, and photography combine in an original way.

Elisa Sighicelli was born in Turin, Italy in 1968 where she lives and works today. She studied at The Slade School of Fine Art in London. Exhibitions include Centro Galego de Arte Contemporánea, Santiago de Compostela (2000); Hertzliya Museum, Tel Aviv (2001); Fondation Salomon, Annecy (2003); MCA, Sydney (2003); the Palazzo delle Papesse Centro Arte Contemporanea, Siena (2005); the Galleria Civica d'Arte Moderna e Contemporanea, Turin (2007); and the Italian Pavilion at the 53rd Biennale di Venezia (2009).