Francis Bacon
07 Nov - 12 Dec 2015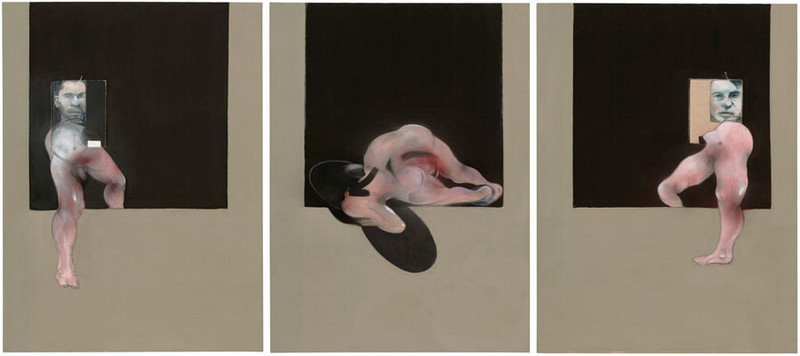 © Francis Bacon
Triptych, 1991
Oil on canvas
Each panel: 78 × 58 1/8 inches (198.1 × 147.6 cm)
The Museum of Modern Art, New York. William A. M. Burden Fund and Nelson A. Rockefeller Bequest Fund (both by exchange), 2003.
© The Estate of Francis Bacon
FRANCIS BACON
Late Paintings
7 November – 12 December 2015

Gagosian New York is pleased to present "Francis Bacon: Late Paintings." This will be the third exhibition of Bacon's work following "Francis Bacon: Triptychs" (Gagosian London, 2006) and "Isabel and Other Intimate Strangers: Portraits by Alberto Giacometti and Francis Bacon" (Gagosian New York, 2008).

Encompassing more than twenty paintings that Bacon made in London and Paris during the last two decades of his life, this will be the first in-depth exploration of the innovations in his late work.

In Bacon's art, modernity and tradition converge. His ectoplasmic figures strain like savage forces of nature against shallow fields of intense color and strict armatures that bind them to the picture plane. In his gut-wrenching serialization of the human form and its sensations, he shows himself to be the unflinching witness of the hysterical reality of bodies and the primal fear of those who inhabit them.

In his late paintings, Bacon refined themes that had long obsessed him. He quoted reflexively from his oeuvre, reworking subjects to strip them to the bare essentials. In his last act, Bacon found inspiration in the portraits of Jean-Auguste-Dominique Ingres. He sprayed paint to achieve a chiaroscuro entirely different from the visceral brushwork of the 1940s to 1970s, ingeniously redressing the brute force of earlier portraits and figure studies in light of Ingres's delicate, fleshy curves. Distilled figures lurk in voids that oscillate between bleak shadows and riots of color. Charged with implied narrative, Bacon's stark paintings of self-representation mark significant departures in his technique.

Organized by Gagosian directors Valentina Castellani and Stefan Ratibor, the exhibition will include important loans from international museums and private collections including Centre Georges Pompidou, Paris; Fondation Beyeler, Riehen/Basel; Hirshhorn Museum and Sculpture Garden, Smithsonian Institution, Washington, DC; Museu Coleção Berardo, Lisbon; Museum für Gegenwartskunst Siegen; Museum of Modern Art, New York; Scottish National Gallery of Modern Art, Edinburgh; and Tate, London, among others. The works are assembled in a special layout designed by Annabelle Selldorf.

The accompanying publication, edited by Michael Cary, will include new essays by Richard Calvocoressi; Richard Francis, curator of the 1985 Bacon retrospective at Tate; Mark Stevens and poet and novelist Colm Tóibín. In addition, the catalogue contains an interview with Martin Harrison, author of the forthcoming catalogue raisonné; reprinted texts by Eddy Batache, Bruce Bernard, and Jeffrey Bernard; never before published documentary photographs by Edward Quinn; and an appendix of existing interviews conducted for international publications during Bacon's late career.

In recent years, Gagosian Gallery has focused on gathering and reexamining the late work of groundbreaking artists in an ongoing series of exhibitions, most notably "Cast a Cold Eye: The Late Work of Andy Warhol" (2006); "Willem de Kooning: The Last Beginning" (2007); "Picasso: Mosqueteros" (2009); "Henry Moore: Late Large Forms" (2012–13); and "Willem de Kooning: Ten Paintings, 1983–1985" (2013). "Francis Bacon: Late Paintings" is the most recent of this series.

Francis Bacon was born in Dublin in 1909, and died in Madrid in 1992. Selected exhibitions include "Francis Bacon," Tate Gallery (1962, traveled to Kunsthalle Mannheim; Galleria Civica d'Arte Moderna, Turin; Kunsthaus Zurich; and Stedelijk Museum Amsterdam); "Francis Bacon," Solomon R. Guggenheim Museum, New York (1963, traveled to Art Institute of Chicago); "Francis Bacon: Rétrospective," Galeries Nationales du Grand Palais, Paris (1971, traveled to Kunsthalle Dusseldorf); "Francis Bacon: Recent Paintings, 1968–1974," Metropolitan Museum of Art, New York (1975); "Francis Bacon: Paintings 1945–1982," National Museum of Modern Art, Tokyo (1983, traveled to National Museum of Modern Art, Kyoto; and Aiehi Prefectural Art Gallery, Nagoya); "Francis Bacon," Hirshhorn Museum and Sculpture Garden, Smithsonian Institution, Washington, DC (1989, traveled to Los Angeles County Museum of Art; and Museum of Modern Art, New York); "Francis Bacon," Centre Georges Pompidou, Paris (1996, traveled to Haus der Kunst, Munich); and "Francis Bacon," Tate Britain, London (2008–09, traveled to Museo Nacional del Prado, Madrid; and Metropolitan Museum of Art, New York).