Joel Morrison
09 May - 25 Jun 2011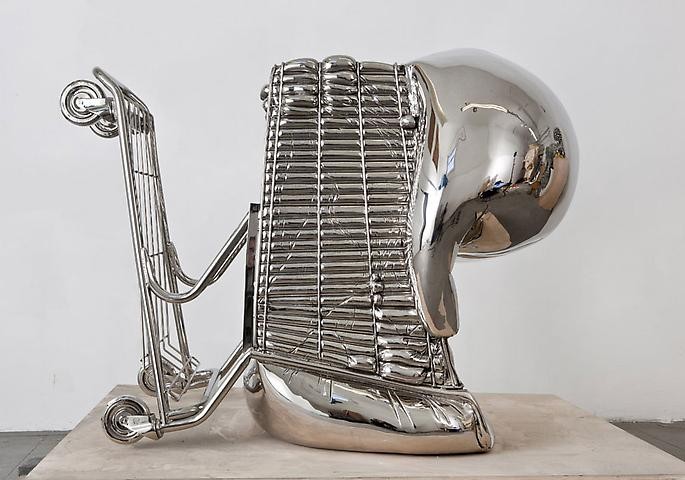 © Joel Morrison
Weather Balloon Trapped in a Shopping Cart, 2009
Stainless Steel
42 x 50 x 38 inches (106.7 x 127 x 96.5cm)
JOEL MORRISON
9 May - 25 June, 2011

"Each work has multiple conceptual references, complex layers of information and a simple but searing punch line." -Joel Morrison

Gagosian Gallery is pleased to present an exhibition of new sculptures by Joel Morrison. This is his first solo exhibition in New York.

Joel Morrison's sculptures take found, everyday objects to fantastic ends. Objects and materials, such as mannequin busts, toys, bubble-wrap, light bulbs, shopping carts, and bullets, are stripped of purpose and assembled into newly polymorphous forms which are then cast in luminous stainless steel or encased under painted fiberglass.

The gleaming refinement of Morrison's stainless steel sculptures belies the intense amount of physical labor required to create them. Quickly and impulsively assembled, they are then subjected to the lengthy and arduous process of casting and intense polishing. One such work, Wiffle Ball (2010), calls to mind Salvador Dalí's Retrospective Bust of a Woman, yet where Dali's figure has a baguette perched ludicrously on top of her head, Morrison's model has a spoon stuck to her nose and a hairdo concocted from wiffle balls, a similarly otherworldly persona. Untitled (2009) appears to be a John McCracken sculpture encased in bubble wrap, ready to be transported; however, it quickly becomes apparent that the original, transitory wrapping material has been cast in stainless steel, converting the once collapsible bubbles into obdurate sculptural forms.

Though the genesis of the fiberglass sculptures is similar to that of the steel works, the end result shows how utterly divergent the two processes are. Just as the stainless steel underscores the original identities of the composite objects, the fiberglass binds and obfuscates them, so they strain for visibility and meaning beneath the painted surface.

The gritty, prankish nature of Morrison's sculptures defies easy categorization as conceptual or merely formalist, as clever or decorative. Rather they operate on a fault line between critical engagement and spectacular aesthetics that is very much in the spirit of our times.

Joel Morrison was born in Seattle in 1976. He received his BA at Central Washington University and an MFA in sculpture at the Claremont Graduate University. His work has been exhibited internationally and is included in numerous public and private collections worldwide. His work was recently the subject of a solo exhibition at the Wexner Center for the Arts, and in 2006 he was included in the California Biennial at the Orange County Museum of Art as well as in "Thing" at the UCLA Hammer Museum, Los Angeles.