Marble
12 Feb - 11 Apr 2009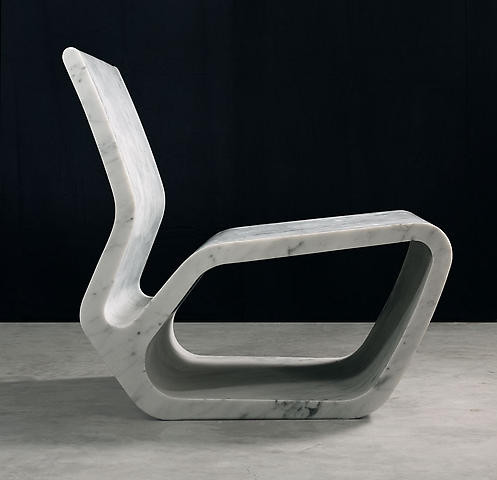 © Marc Newson
Extruded Chair (white), 2006
White Carrara marble
27 1/2 x 23 1/2 x 28 1/4 inches (69.8 x 59.7 x 71.8 cm)
MARBLE

February 12 - April 11, 2009

980 Madison Avenue
New York, NY 10075

"The marble not yet carved can hold the form of every thought the greatest artist has."
--Michelangelo

Gagosian Gallery is pleased to present an exhibition that explores the enduring fascination of marble, beginning with ancient idols, through classical and Renaissance statuary to twentieth century and contemporary sculpture.
A sensual yet resilient natural material, over time marble has developed a rich visual vocabulary together with a constantly mutating symbolism. Our Neolithic ancestors carved it into primal representations of the human form. These ritual figures and vessels -- strong, simple, abstract shapes -- were dictated in part by the innate form of the excavated stone and the rudimentary tools available to work it. The Ancient Greeks and Romans worshipped marble and utilized it in all manner of civic edification, both architectural and sculptural; whereas in medieval times, it was vilified as idolatry by zealous clerics. During the Renaissance and on through the Enlightenment, it became charged with newly expressionistic significance. Twentieth century and contemporary artists have tended to invert, shift, and play with all these approaches and their references, rendering marble ironic, enigmatic, and at times even incongruous. Thus marble links various spiritual and secular artistic traditions as they have reinvented themselves throughout history, just as the powerful aura that it exudes transcends time and change.
In this exhibition, Anatolian and Cycladic idols presage the modernist abstractions and biomorphic forms of Hans Arp, Constantin Brancusi, Alberto Giacometti, Barbara Hepworth, Henry Moore, Anish Kapoor, and Isamu Noguchi. A delicately carved Renaissance head, (once belonging to Andy Warhol,) prefigures the tongue-in-cheek gravitas of Jeff Koons's elaborately crafted (self)-creation myth. The austere geometries of works by Carl Andre, Jenny Holzer, and Marc Newson are echoed in an exquisite painted marble fragment by Brice Marden, providing yet another counterpoint to this rich ensemble.
The latent potential of every block of marble is a challenge to artists of all generations. Its resilience defies the transient tools of modern communication through symbolism, ritual, spirituality, and desire. Embedded in cultural history, marble presents infinite possibilities for future transformation, as expressed most eloquently by Isamu Noguchi: "I am beset with doubts about the values of art as we go into the electronic age. We are all swept up in its current. Where all we see is change I like to think that sculpture may have in this a special role-as an antidote to impermanence-with newness yes, but with a quality of enduring freshness relative to that resonant void, within us and without, not to end only as another phenomenon of our times. But this, of course, is what art is."