Marcel Duchamp
26 Jun - 29 Aug 2014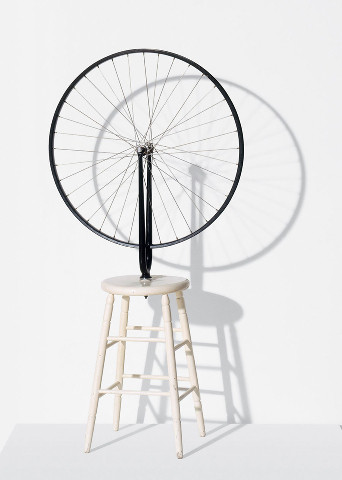 Marcel Duchamp
Bicycle Wheel, 1913/64
("Ex Arturo," one of two artist's proofs)
© Succession Marcel Duchamp/ADAGP, Paris/Artists Rights Society (ARS), New York 2014
MARCEL DUCHAMP
26 June - 29 August 2014

Choice is the crucial factor in a work of art.
—Marcel Duchamp

Gagosian New York is pleased to present an exhibition of Marcel Duchamp's editioned readymades, fifty years after their American debut at the same building on Madison Avenue.

Duchamp remains the ultimate avant-gardist whose subversive attitude continues to impact contemporary art practices. The painting Nude Descending a Staircase (No. 2) (1912), in which he animated a classical subject with a sense of mechanical motion, scandalized audiences at the 1913 Armory Show, and cemented his reputation as provocateur. His first readymade, a standard bicycle wheel attached to a wooden stool, came about "as a pleasure, something to have in my room the way you have a fire, or a pencil sharpener, except that there was no usefulness." This unprecedented gesture anticipated further challenges to what he perceived to be a false hierarchy of objects. By instructing his sister to sign Bottle Rack (Bottle Dryer) (1914), he elevated it from utilitarian status while abdicating his own authorship of the idea. For Fountain (1917), he purchased a standard urinal, signed it "R. Mutt," and submitted it to an exhibition organized by the Society of Independent Artists, where it was rejected on grounds of indecency.

Duchamp supplanted these first readymades, many of which were lost or destroyed over the course of the next fifty years, with fourteen precisely executed editioned multiples, published by Arturo Schwarz from 1964. These editioned readymades, including Fountain, Bicycle Wheel, Hat Rack, and Traveler's Folding Item, were exhibited the following year at Cordier & Ekstrom Gallery, then located at 978 Madison Avenue. By memorializing his own oeuvre via recreation and reproduction, Duchamp maintained his dissident vision of artistic integrity, epitomized by Boîte-en-valise (1935–41), a suitcase containing a "portable museum" comprised of fold-out reproductions and miniature replicas of his most important works.

Thus the readymades represent a challenging rupture for Modernism, a moment when the foundations of originality and authorship were shaken by the radical imaginings of one artist. Parallel with the emergence of Pop artists Jasper Johns, Claes Oldenburg, and Andy Warhol, and anticipating the appropriational methods of Jeff Koons, Duchamp's replication of his own creative acts presaged art in the age of mechanical reproduction.

A fully illustrated catalogue with new texts by Calvin Tomkins and Dr. Adina Kamien-Kazhdan is forthcoming.

A revised, expanded edition of Calvin Tomkins's The Bride and the Bachelors, which traces Duchamp's legacy through profiles of Duchamp, John Cage, Merce Cunningham, Jasper Johns, Robert Rauschenberg, and Jean Tinguely, was published by Gagosian in 2014.

Marcel Duchamp was born in Blainville-Crevon, France in 1887, and died in Neuilly-sur-Seine, France in 1968. Public collections include Museum of Modern Art, New York; Philadelphia Museum of Art; Art Institute of Chicago; Menil Collection, Houston; Tate, London; Centre Georges Pompidou, Paris; Musée d ́Art Moderne de la Ville de Paris; and Israel Museum, Jerusalem. Major retrospective exhibitions include Pasadena Museum of California Art (1963); Tate, London (1966); Philadelphia Museum of Art (1973); Centre Georges Pompidou, Paris (1977); and Palazzo Grassi, Venice (1993).