Tatiana Trouvé
03 Mar - 25 Apr 2015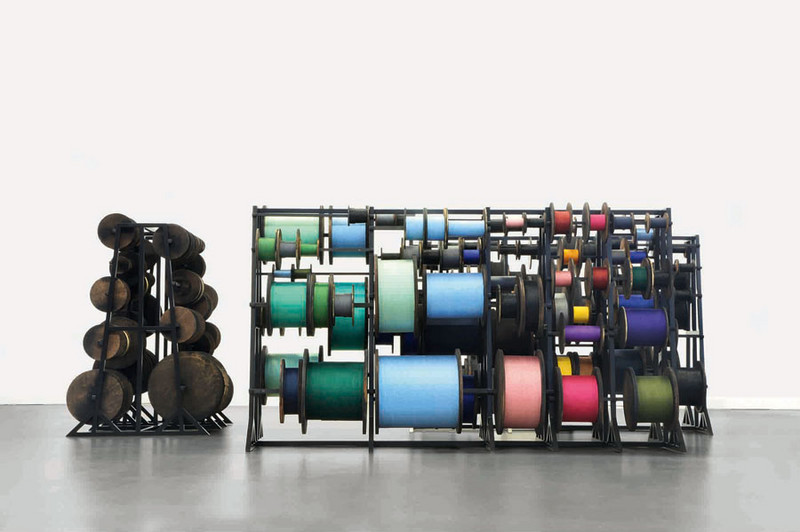 © Tatiana Trouvé
Untitled, 2014
Metal, paint, wood, ink, oil, and rope
28 3/4 × 80 3/4 × 41 1/2 inches (73 × 205.1 × 105.4 cm)
Photo by Laurent Edeline
TATIANA TROUVÉ
Studies For Desire Lines
3 March – 25 April 2015

Gagosian New York is pleased to announce an exhibition of recent work by Tatiana Trouvé closely related to and concurrent with her major Public Art Fund commission Desire Lines, which opens to the public on March 3 at Doris C. Freedman Plaza, Central Park. Notes, drawings, tracings, sculptural fragments, and a detailed model of the large-scale sculpture provide a fascinating insight into the artist at work.

Desire Lines speaks not only to Frederick Law Olmsted's vision of planned wilderness for Central Park and its evolution—the term itself is used in urban design to describe the incidental tracks and alternative routes that emerge over time in relation to designated paths in a landscape—but also to the imagination of the thousands of people who enjoy the park daily.

Desire Lines is a physical inventory of 212 walkable routes in Central Park, which Trouvé mapped and measured. Consistent with her enigma-producing strategy of exposing only to conceal again—already evident in the Bureau of Implicit Activities (1997–present)—she transferred the measurements into a multitude of colored cords, wound on wooden spools and installed on huge metal racks to form an imposing sculptural environment.

As so many of the paths are unnamed, Trouvé then decided to invent an imaginative "atlas" of the history and culture of walking. And so began a second phase of research on the vast historical narrative to which Desire Lines is now dedicated: the social, political and cultural evolution of the march, from the mass activism of Mohandas Gandhi, Martin Luther King, and the suffragette movement to the diverse artistic gestures of Richard Long, Janet Cardiff/George Bures Miller, Francis Alÿs, Frank Zappa, and Charles Baudelaire. Visitors to Desire Lines can choose a path by name then undertake the walk it describes, tracing the march of history in collective memory while discovering Central Park anew.

At 821 Park Avenue, Trouvé will present sculptures, drawings, and preparatory studies for Desire Lines. In addition to vellum tracings and cast part-objects, a magnificent maquette of the large-scale sculpture at Doris C. Freedman Plaza will be on view, as well as a suite of detailed graphite drawings inlaid with copper. Vertical maps of Central Park in raw canvas with paths hand-stitched in colored silks are perhaps a subtle nod to Alighiero Boetti's taxonomic embroideries for The 1000 Longest Rivers.

This unique presentation, which has been specially conceived by Trouvé for the 821 Park Avenue gallery, affords rare insight into her studio and creative process, resonating with the concurrent exhibitions "Henry Moore: Wunderkammer—Origin of Forms" at Gagosian London; and "In the Studio" at Gagosian Madison Avenue and Gagosian West 21st Street, curated by John Elderfield and Peter Galassi.

Desire Lines remains at Doris C. Freedman Plaza until August 30, 2015. A book documenting the entire project is planned.

Tatiana Trouvé was born in 1968 in Cosenza, Italy. She has participated in major international group exhibitions such as the Biennale di Venezia (2003 and 2007); the 29th São Paulo Biennale (2010); Punta della Dogana, François Pinault Foundation, Venice (2011); and Hayward Gallery, London (2010). Recent solo exhibitions include "Double Bind," Palais de Tokyo, Paris (2007); "4 Between 3 and 2," Centre Georges Pompidou, Paris (2008); "A Stay Between Enclosure and Space," Migros Museum, Zurich (2009); "Tatiana Trouvé," South London Gallery (2010); "Il grande ritratto," a site-specific exhibition at Kunsthaus Graz (2010) inspired by Dino Buzzati's science fiction novel; and "I tempi doppi," Kunstmuseum Bonn (2014, traveling to Museion Bolzano-Bozen and Kunsthalle Nürnberg). Also in 2014, MAMCO, Geneva presented Trouvé's first retrospective exhibition "The Longest Echo/ L'écho le plus long." Trouvé lives and works in Paris.