Untitled (Vicarious)
23 Sep - 20 Dec 2008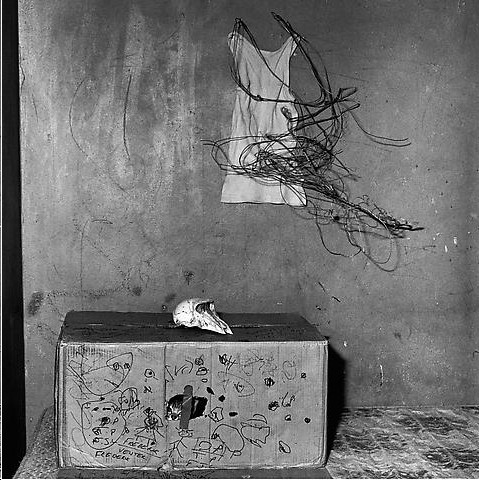 © Roger Ballen
Cat in box, 2002
Selenium toned gelatin silver print
15 x 15 inches (38.1 x 38.1 cm)
Ed. of 10
UNTITLED (VICARIOUS)

September 23 - December 20, 2008
Opening reception: Tuesday, September 23rd, from 6 to 8 pm

I never thought of a picture as being bodiless, but rather as existing within a process of transformation of three dimensions to two.
--Wolfgang Tillmans

Gagosian Gallery is pleased to announce Untitled (Vicarious), an exhibition of photographs by Roger Ballen, Gregory Crewdson, Thomas Demand, Shannon Ebner, Peter Fischli & David Weiss, Sara Greenberger Rafferty, Anne Hardy, Leslie Hewitt, László Moholy-Nagy, Carter Mull, Vik Muniz, Hélio Oiticica & Neville D'Almeida, Cindy Sherman, David Smith, Hiroshi Sugimoto, Wolfgang Tillmans, Sara VanDerBeek, and James Welling.

Untitled (Vicarious) explores the defining relationship between sculpture and photography as exemplified by a group of artists spanning several generations. Central to the exhibition is the dematerialization of the object via the process of its being photographed: the artists create and photograph constructions, choosing to exhibit the resulting representations rather than the original objects. Whether they are sculptures, staged scenarios, or momentary interventions, the conflation of the inherent three-dimensionality of the sculptural form and the rendered two-dimensionality of the final photograph defies easy categorization. One is forced to recognize the object as an entity that cannot be viewed firsthand but only experienced vicariously via secondary photographic incarnations.
For the greater part of the twentieth century, artists have used photography to define their constructions through the lens of the camera rather than through physical proximity. Some of the first practitioners of this mode of representation have been sculptors. David Smith's photographs are remarkable for their attention to objects and their positioning, reflecting on the sculptural possibilities and perceptual impact of photography; László Moholy–Nagy designed sets for his sculptures, adjusting the light conditions to present an object-based perception of his work within the confines of a two-dimensional format, thus creating a separate experience unique to the photograph that could not be replicated in three dimensions.
As conceptual art eschewed the traditional boundaries of defined mediums, artists began to question how a sculpture could be experienced, and the methods by which that experience could be controlled. Hélio Oiticica & Neville D'Almeida's collaborative efforts conflated sculpture and photography while simultaneously acknowledging and negating the power of pop culture; Fischli & Weiss incorporated industrial and, in many cases, perishable items into tenuous and transitory constructions with slyly evocative titles; Cindy Sherman's disturbingly manipulated anatomical models propose subversions and perversions of traditional constructions of sexuality.
Re-imagined landscapes, both interior and exterior, form the basis of many of these vicarious images. Thomas Demand's environments, reconstructed meticulously in paper and cardboard, commemorate historical events, sites, and phenomena, such as KFC (2007), a subtle critique of global consumption; Hiroshi Sugimoto's subtly modulated color photographs establish a sense of depth with shadow-filled crevices designed and constructed to enhance the sculptural effects of a completely white room; Roger Ballen's tableaux utilize variations in texture, tone and materials to create deeply psychological interactions, unsettling studies of his South African experience; Wolfgang Tillmans's photographs and photographic installations show him working to create an expanded field for his chosen medium. Whether exposed photo-sensitive materials or images of all manner of still lifes they reveal the mental leap required to move from three dimensions into two.
For a younger generation, these recently established practices have in turn become subjects and sources. Sara Greenberger Rafferty uses the traditionally sterile tropes associated with comedy and magic, in this instance in the forms of pies and playing cards, literally tearing the picture plane to underscore the idea of these images being both objects and images; for Carter Mull, photography is a not so much a transparent truth-telling device as it is a kind of inherently constructed material theater originating in the photographic apparatus; Sara VanDerBeek's six-part work Four Photographers (2008) comprises hand-cast plaster slabs referencing fragments of architectural friezes. She layers these with sheets of glass upon which is a sequence of images by Man Ray, Julia Margaret Cameron, and her father Stan VanDerBeek-- the fourth photographer being Sara herself. Shannon Ebner's Shrouded Monument (2008), a makeshift construction made of cinder blocks spelling out U S A, suggests the fragility of sculptural forms as analogy for systems of government.