Walter De Maria
08 Nov 2014 - 07 Jan 2015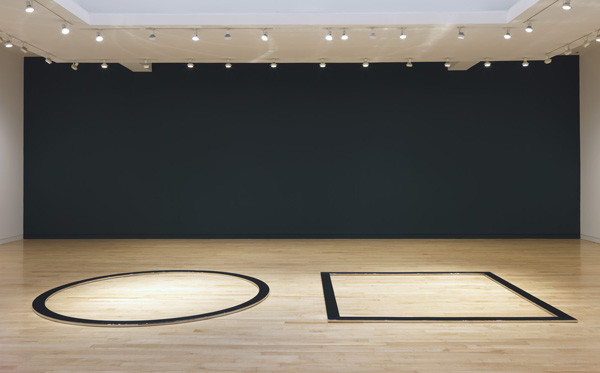 Walter De Maria
The Equal Area Series: Pair Number 25, 1990
Stainless steel
Dimensions variable
Photo by Rob McKeever
WALTER DE MARIA
8 November 2014 – 7 January 2015

Gagosian Gallery is proud to announce the representation of the Estate of the late Walter De Maria, a vital figure in the evolution of Minimalism, Conceptual art, Land art, and installation. De Maria died in July of 2013 at the age of 77.

On November 8, the first exhibition of sculptures and works on paper from the Estate will be presented at 980 Madison Avenue. This will be the sixth exhibition of De Maria's work to be held at Gagosian Gallery's locations since 1989.

The works on view, which date from 1976 to 1990, include the largest pair from The Equal Area Series (1976–90), Pair Number 25. Each of the 25 pairs in the series comprises a 7/8-inch thick, solid stainless steel circle and square which, despite their distinctive geometries, measure nearly the same square space. A British racing green wall as backdrop recalls the installation of Pair Number 19 at the Moderna Museet, Stockholm in 1989. Also alluding to that installation, two prerecorded musical compositions by De Maria–Cricket Music (ca. 1964) and Ocean Music (ca. 1968)–will be played in the space.

Large Rod Series: Pedestal Rods 5, 7, 9, 11, 13 (1984) comprises five highly-polished solid stainless steel rods ranging from 5 to 13 sides, placed atop individual pedestals and spaced two meters apart. This work is part of a thirteen-year span of horizontal sculptures, beginning with The Broken Kilometer (1979), in which De Maria explored mathematical sequences through the grouping of similar polygonal forms. The Pure Polygon Series (1976), an editioned portfolio of seven drawings executed with a stencil, complements these sculptures. And, finally, De Maria's prescient meditation on the incalculable reality of existence, There exists in the Universe more than One Billion Galaxies (1988), will also be on view.

A nonprofit entity established by Larry Gagosian, the Walter De Maria Foundation will be dedicated to managing the late artist's rights and reproductions, advising on curatorial matters, and overseeing the preparation of a major monograph. Elizabeth Childress, former director of the De Maria studio, and current director of the Walter De Maria Collection and Archives, commented, "Walter so wished to establish his own foundation, but sadly he did not accomplish this during his lifetime. It is an important step to have this entity as both a protection and a promotion of his legacy."

Walter De Maria was born in 1935 in Albany, California. He lived and worked in New York from 1960 until his death in 2013. For more than five decades, he was a singular figure whose rigorous and visionary works changed the very parameters of art history. Combining precise geometry with vast scale, his remarkable installations gave fresh impact and new meaning to the experience of looking at art, while enhancing and expanding the appreciation of the surrounding world. Among the eleven permanently sited installations by the artist are The New York Earth Room (1977), New York; The Broken Kilometer (1979), New York; The Lightning Field (1977), New Mexico; The Vertical Earth Kilometer (1977), Kassel, Germany; Monument to the Bicentennial of the French Revolution 1789–1989 (1989–90), Assemblée Nationale, Paris; and the Large Red Sphere (2010), in the Türkentor building, Munich.