Diane Arbus
19 Apr - 27 May 2011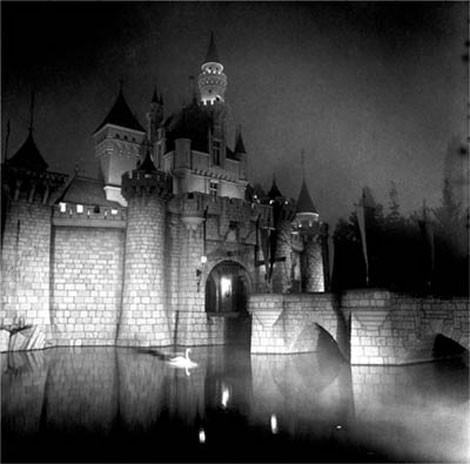 Diane Arbus
A castle in Disneyland, Cal., 1962
Gelatin-silver print
20 x 16 inches (50.8 x 40.6 cm)
© Estate of Diane Arbus
DIANE ARBUS
People and Other Singularities
19 April - 27 May, 2011

... a thing is not seen because it is visible, but conversely, visible because it is seen...--Passage underlined by Diane Arbus in her copy of
The Works of Plato

Gagosian Gallery is pleased to present "People and Other Singularities," a survey of the photographs of Diane Arbus spanning 1956 to 1971. This will be the most extensive exhibition of Arbus's work in Los Angeles since "Diane Arbus: Revelations" at the Los Angeles County Museum of Art in 2004, and will contain several photographs that have never before been exhibited.

By now Arbus's unsettling social portraits are burned into collective memory. Although her work appeared in only a few group exhibitions during her lifetime, her fearless and unique images exerted a revolutionary influence on subsequent generations of artists and filmmakers. Her idiosyncratic anthropological study of insiders, outsiders, and everyone in between proposes an alternative allegory of mainstream postwar America while investigating the correlation between appearance and inner self, theater and reality.

Arbus found many of her subjects in her native city of New York, which she explored as much for its subversive and exotic attractions as for its familiar terrain. The New York pictures were augmented with visits to Pennsylvania, Florida and California, where she photographed vernacular contests and festivals as well as all manner of public and private rituals. Among the photographs made in Los Angeles on view will be A house on a hill, Hollywood, Ca., 1963, Christopher Isherwood, California, 1962, Miss Venice Beach, Cal., 1962, Muscle man contest with onlooker, Cal., 1962, and Rocks on wheels, Disneyland, Cal., 1963.

All ten images from her celebrated portfolio A Box of Ten Photographs (1970) will be shown, including A Jewish giant at home with his parents in the Bronx, N.Y., 1970, and Identical twins, Roselle, N.J., 1966. An entire gallery will be dedicated to the Untitled photographs that Arbus made at institutions for the developmentally disabled between 1969 and 1971, in the last years of her life.

Diane Arbus was born in New York City in 1923, and began her solo career as a photographer in the mid-1950s. She received the Guggenheim fellowship in 1963 and 1966.

Her work is in many major public collections, including The Metropolitan Museum of Art, Museum of Modern Art, New York, Museum of Contemporary Art, Los Angeles, Tate Modern, London, and Centre Pompidou, Paris.

Arbus was the first American photographer to have work exhibited at the Biennale di Venezia (1972). Other important exhibitions include "Diane Arbus," Museum of Modern Art, New York (1972); "Diane Arbus: Retrospective," Seibu Museum, Tokyo, (1973); and "Diane Arbus: Revelations," San Francisco Museum of Modern Art (2003), which traveled to seven museums including the Metropolitan Museum of Art, New York (through 2006). A major traveling European retrospective will open at Jeu de Paume in Paris in October 2011.