Harmony Korine
10 Jan - 14 Feb 2015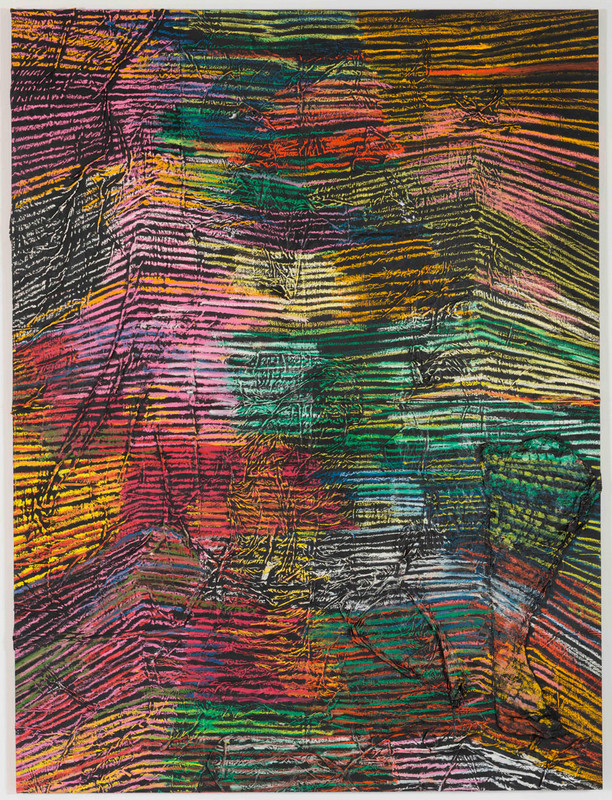 © Harmony Korine
Scubby Line, 2014
House paint, oil, and collage on canvas
124 x 93 inches (315 x 236.2 cm)
Photo by Josh White
HARMONY KORINE
Raiders
10 January – 14 February 2015

I've long been interested in loops, mistakes, trance-y repetition. It's like writing a novel with pages missing in all the right places.
—Harmony Korine

Gagosian Beverly Hills is pleased to present new paintings by Harmony Korine.

Korine's cult films of the past twenty years—from the surreal Gummo (1997) to Spring Breakers (2012), a contemporary film noir in which four college freshwomen are drawn into a murderous labyrinth of events—merge reality with fiction and hand-held camerawork with precise montage. This heady mix of the unplanned, the seductive, and the outlandish crystallizes in his lesser known, highly tactile paintings. Eschewing brush and professional paint in favor of Squeegees, leftover household paint, and masking tape, he creates loosely sequential images that echo the sonic and visual leitmotifs of his films. The accumulative hypnotic effect of the paintings is offset by lifelike randomness and impulsive energy.

To create Raider Burst (2014), Korine stuck overlapping segments of masking tape to the center of an unprimed canvas, then used a broom to spread primary red, yellow, and blue dyes over the surface. He then removed the tape to reveal bright, irregular stars shining through colorful mists; the final composition is characterized by a spontaneous, explosive radiance. Other paintings are inhabited by shadowy, clawed creatures reminiscent of Goya's ghastly Caprices, obscured by layers of housepaint, sprayed with letters, and repainted over the course of several years.

Canvases covered in rows of painted circles and squares yield sudden variations that vacillate between considered and spontaneous mark-making, while rainbow-hued, striated paintings comprising hundreds of horizontal lines hint at distant perspectives. Korine sticks pieces of bubble wrap, plastic, and paper to the canvas as he works, imbuing the optical depths with physical relief. These fossilized scraps embody dual narratives: as literal records of process, their skeletal silhouettes also suggest drifting specters, echoing the animated wraiths of more overtly figurative works such as Little Shawshank and W. Hulk Felix. Deliberate and erratic, repetitious and random, Korine's paintings are born of fierce life forces, conflictual yet interdependent.

Harmony Korine was born in Bolinas, California in 1973. His films include Kids (1995, written by Korine, directed by Larry Clark); Gummo (1997, written and directed by Korine); Julien Donkey-Boy (1999, written and directed by Korine); Ken Park (2002, written by Korine, directed by Larry Clark and Ed Lachman); Mister Lonely (2007, written by Korine, co-directed with Avi Korine); Trash Humpers (2009, written and directed by Korine); and Spring Breakers (2012, written and directed by Korine). Solo and two-person exhibitions of his films, photographs, and paintings include Patrick Painter, Santa Monica, CA (1997, 2000); Stedelijk Museum voor Actuele Kunst, Ghent, Belgium (2000); "Harmony Korine-pigxote," Vanderbilt University Fine Arts Gallery, Nashville, TN (2009); "Rita Ackermann and Harmony Korine: Shadow Fux," Swiss Institute, New York (2010–11); and Gagosian New York (2014). His work was included in "Présumés Innocents, l'art contemporain et l'enfance," CAPC Musée d'art contemporain de Bordeaux (2001); "Beautiful Losers," Cincinnati Contemporary Arts Center (2004); "SONIC YOUTH etc. : SENSATIONAL FIX," Kunsthalle Düsseldorf (2009); and "Altars of Madness," Casino Luxembourg Forum d'art contemporain (2013). Korine's novel, A Crack Up at the Race Riots, was published by Mainstreet/Doubleday in 1998. Pass the Bitch Chicken: Christopher Wool & Harmony Korine, a book of collaborative images, was released by Holzwarth Publications in 2002. His work was included in the 50th Venice Biennale (2003).

Gagosian will also present an exhibition of recent paintings by Korine at Eden Rock, St. Barths from December 28, 2014–January 31, 2015.

Korine lives and works in Nashville, TN.