Cy Twombly
10 Oct - 12 Dec 2015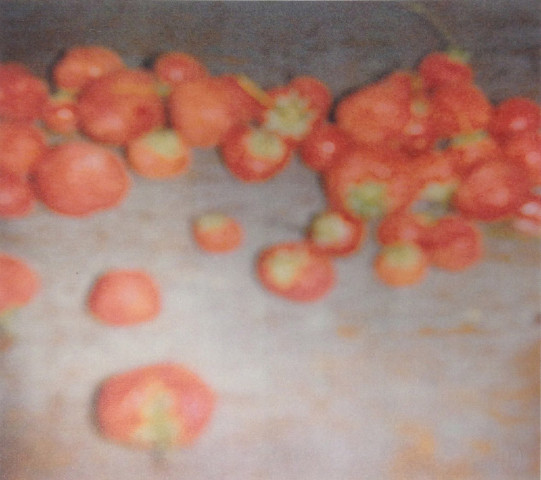 Cy Twombly
Strawberries (Gaeta), 2008
Color dry-print
10 1/4 × 9 7/8 inches unframed (26 × 25.1 cm)
Ed. of 6
© Nicola Del Roscio Foundation
CY TWOMBLY
Photographs
10 October - 12 December 2015

Gagosian London is pleased to announce an exhibition of photographs by Cy Twombly at the Davies Street gallery, to coincide with paintings, sculptures, and works on paper at the new Grosvenor Hill gallery.

From his days as a student at Black Mountain College during the early 1950s until his death in 2011 at the age of 83, Twombly captured his daily life in photographs. He recorded the verdant landscapes of Virginia and the coasts of Italy; close-up details of ancient buildings and sculptures; studio interiors; and still lifes of objects and flowers.

Beginning in the early 1990s, Twombly used specialized copiers to enlarge his Polaroid images on matte paper, resulting in subtle distortions that approximate the timeless qualities of his paintings and sculptures with their historical and literary allusions. Recalling the Pictorialism of photographers such as Alfred Stieglitz, the expressive nature of Twombly's prints transcends the mechanical aspects of the medium.

This exhibition brings together more than twenty photographs of natural subjects—tulips, strawberries, cabbages, lemons—taken in Rome and Gaeta between 1985 and 2008.

Throughout his sixty-year career, Twombly infused the physical and emotional aspects of Abstract Expressionism with a wealth of historic and mythic allusion. At once epic and intimate, his work is steeped with references to poetry and classical mythology. The alternation between the visible and the hidden, between present and past, and the struggle between memory and oblivion are unifying themes in his work.

Cy Twombly (1928–2011) was born in Lexington, Virginia. He studied at the School of the Museum of Fine Arts, Boston (1947–49); the Art Students League, New York (1950–51); and Black Mountain College, North Carolina (1951–52). In the mid-1950s, following travels in Europe and Africa, he emerged as a prominent figure among a group of artists working in New York that included Robert Rauschenberg and Jasper Johns. Major retrospectives were held at the Whitney Museum of American Art, New York (1979); Kunsthaus Zürich (1987, traveled to Madrid, London, Düsseldorf, and Paris); and Museum of Modern Art, New York (1994, traveled to Houston, Los Angeles, and Berlin). In 1995, the Cy Twombly Gallery opened at The Menil Collection, Houston, exhibiting works produced by Twombly since 1954. The European retrospective "Cy Twombly: Cycles and Seasons" opened at Tate Modern, London in 2008 and traveled to Bilbao and Rome. "Cy Twombly: The Natural World, Selected Works 2000–2007," Art Institute of Chicago (2009) and "Sensations of the Moment," MUMOK, Vienna (2009) were important surveys. In 2010, his permanent site-specific painting Ceiling was unveiled in the Salle des Bronzes at the Musée du Louvre. At the same time he was made a Chevalier of the Légion d'honneur by the French government. Twombly died in Italy in 2011.

Selected recent exhibitions include "Cy Twombly: Sculpture," Museum of Modern Art, New York (2011); "Cy Twombly Photographs 1951–2010," Museum Brandhorst, Munich (2011); "Cy Twombly: Sculptures," Philadelphia Museum of Art (2013); "Cy Twombly: Paradise," Museo Jumex, Mexico City (2014); "Cy Twombly: Treatise on the Veil," The Morgan Library & Museum, New York (2014); and "Cy Twombly: Paradise," on view at Ca' Pesaro, Venice through September 22, 2015.