Anselm Kiefer
19 Oct 2012 - 26 Jan 2013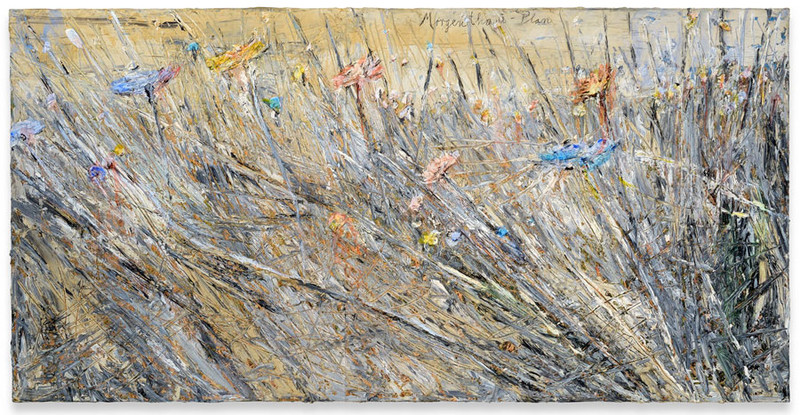 © Anselm Kiefer
Morgenthau Plan, 2012
Oil, emulsion, acrylic, on photograph on canvas
74 13/16 x 149 5/8 inches (190 x 380 cm)
ANSELM KIEFER
Morgenthau Plan
19 October 2012 – 26 January 2013

Gagosian Gallery is pleased to inaugurate a new exhibition space at Le Bourget in the north of Paris with "Morgenthau Plan," an exhibition by Anselm Kiefer. Following major exhibitions at Gagosian Gallery in New York (1998, 2000, 2002, 2010), Los Angeles (2008), and Rome (2009), this is Kiefer's first exhibition with the gallery in Paris.

Kiefer's monumental archive of human memory gives overt material presence to a broad range of cultural myths and metaphors—from the Old and New Testaments, the Kabbalah, and ancient Roman history to the poetry of Ingeborg Bachmann and Paul Celan. Fusing art and literature, painting and sculpture, Kiefer engages the complex events of history and the ancestral epics of life, death, and the cosmos. He integrates, expands, and regenerates imagery and techniques, emphasizing the importance of the sacred and the spiritual.

In "Morgenthau Plan," the gallery is filled with a sculpture of a golden wheat field, enclosed within a five-meter high steel cage. Kiefer's wheat field refers to the plan proposed in 1944 by former United States Secretary of the Treasury Henry Morgenthau to transform Germany after World War II into a pre-industrial, agricultural state thereby limiting its ability to wage war. Morgenthau sought to divide Germany into two independent states; annexing or dismantling all German centers of industry in a devastating arrangement that would have led to the death of millions of citizens by pestilence and starvation. Although the Morgenthau Plan was never realized, it represented a potential alternative German history.

Anselm Kiefer was born in 1945 Donauschingen, Germany. After studying law, he began his art education in Karlsruhe and then Düsseldorf, where studied informally under Joseph Beuys. His work has been shown in, and collected by, major museums throughout the world. Recent retrospective surveys include "Anselm Kiefer: Heaven and Earth," the Modern Art Museum, Fort Worth, Texas (2005, traveled to Musée d'art contemporain de Montréal, the Hirshhorn Museum and Sculpture Garden, Washington, D.C., and the San Francisco Museum of Modern Art) and "Anselm Kiefer," Guggenheim Museum Bilbao (2007). In 2007 Kiefer inaugurated the "Monumenta" program at the Grand Palais, Paris with a vast site-specific installation of sculptures and paintings. In 2009, he directed and designed the sets for Am Anfang (In the Beginning) at the Opéra national de Paris.

Kiefer lives and works in France.