Hilary Lloyd
13 Mar - 17 Apr 2010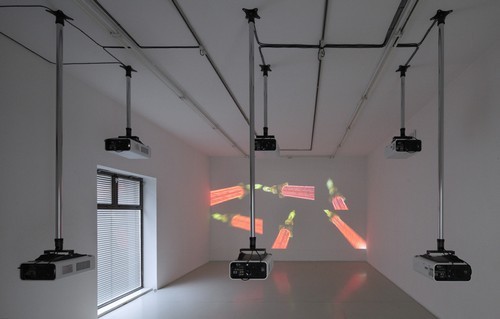 © Hilary Lloyd
Column, 2009
Six-Channel Projection, 6 Sanyo PLC-XP100 Projectors
 6 Pioneer DVD-V7300D Players
 12 Unicol Suspension Units, dimensions variable
HILARY LLOYD
March 13th – April 17th, 2010
Galerie Neu is pleased to present a new work by Hilary Lloyd:
Column, 2009
6 Sanyo PLC-XP100 Projectors
6 Pioneer DVD-V7300D Players
12 Unicol Suspension Units
Dimensions variable
For her second solo exhibition at Galerie Neu, Lloyd has installed a video grid comprising six individual projections. Each video shows the same illuminated column isolated against the night sky. Filmed with a hand-held camera, the column swings, thrusts and jerks itself across the gallery wall. Within the projected grid the column butts up against itself, continuously shifting direction and speed. Forming an integral part of the work, the projectors and DVD players are suspended from the ceiling on chrome columns. Column revolves around the tension between the deliberate randomness of the films and the physical presence in the gallery of the installation. As in earlier slide and video works Lloyd's cool and exacting installations heighten her works brutal and erotic qualities.
Lloyd's recent solo exhibitions include Tramway, Glasgow and Le Consortium, Dijon. Her work was also shown in the Lyon Biennial, 2007. Future shows include solo presentations at Raven Row, London in November 2010, Artists Space, New York in early 2011, as well as the group exhibition Framed at IMA, Indianapolis. For further questions, please contact the gallery either at
mail@galerieneu.com
or telephone + 49 30 285 7550.