Katharina Wulff
29 Mar - 24 Apr 2008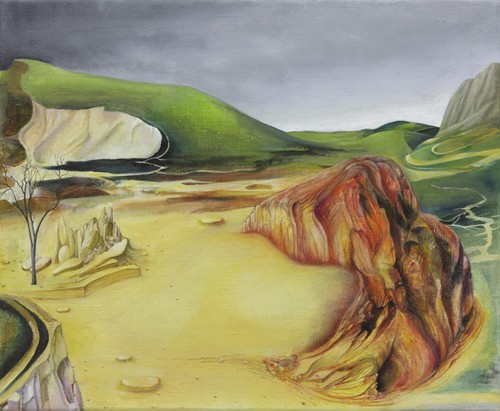 © Katharina Wulff
Natürlicher Altar für eine religiöse Fanatikerin
2007, Oil on Canvas
47,5 x 57,2 (framed)
KATHARINA WULFF
Oh, Camelot!
29.03.2008–24.04.2008
Galerie Neu is pleased to present Oh Camelot!, a show of new works by the Berlin-based painter Katharina Wulff.
Exploring the spaces in Wulff's new paintings, one encounters protagonists and settings familiar from the artist's recent work: introspective figures, historical quotes of costume and dress, mysterious animals and beguiling landscapes marked by peculiar rock formations and sparse vegetation.
The quiet theatricality evoked in these enigmatic scenes produces the effect of time standing still. In these new works, Wulff reduces narration to suggestive fragments or transforms it altogether into highly specific evocations of fleeting atmospheric effects. In this vein, a dark mood pervades the paintings shown in Oh, Camelot! And yet Wulff's muted colors seem to radiate with a gentle shimmer, which intensifies to a gleam in the bright red and orange tones of a rock formation or the colorful brocade on a pillowcase. The exhibition's title hints at a foregone time of tales and legends in which strange historical scenarios unfurl – or do not. Likewise, Wulff's protagonists are inscrutable figures who appear to represent communication or power relationships without actually interacting. To this end, mouths or eyes are sometimes indicated simply through lines or smears, while others are more elaborately delineated.
Katharina Wulff's paintings result from a long working process in which she searches to balance surface, spatiality and ornament in a mutual relationship with figurative content. Her works weave elements of a long tradition of figurative painting into highly individual constellations. Motifs common in Dutch painting of the 16th century combine here with landscapes that recall Italian renaissance backgrounds. Wulff juxtaposes these with references to the biomorphic forms of the surrealist painter Yves Tanguy and a conscious recollection of 20th century figurative painting, such as Balthus.
This is Wulff's fifth solo exhibition at Galerie Neu. Her work has recently been featured in exhibitions at Greene Naftali Gallery (New York), The Douglas Hyde Gallery (Dublin, Ireland) and Galerie Buchholz (Cologne, Germany) among others. For questions, please contact Galerie Neu at
mail@galerieneu.com
or 49 (0)30 285 7550.