Yin Xiuzhen
Slow Release
30 Sep - 08 Feb 2016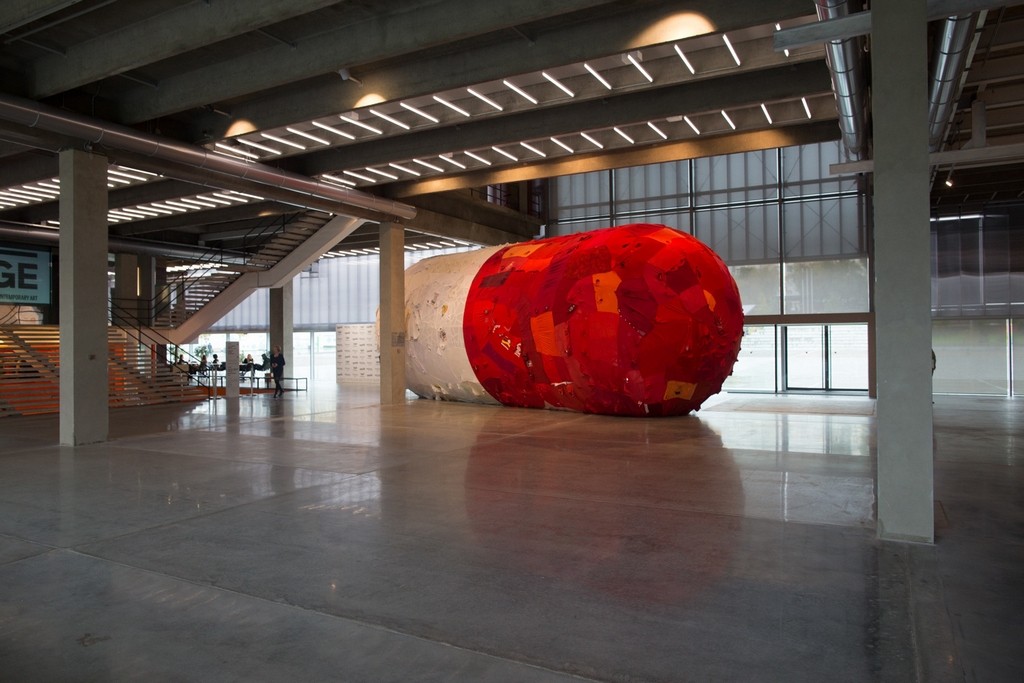 Installation view, Yin Xiuzhen, Slow Release, Garage Museum of Contemporary Art, 2016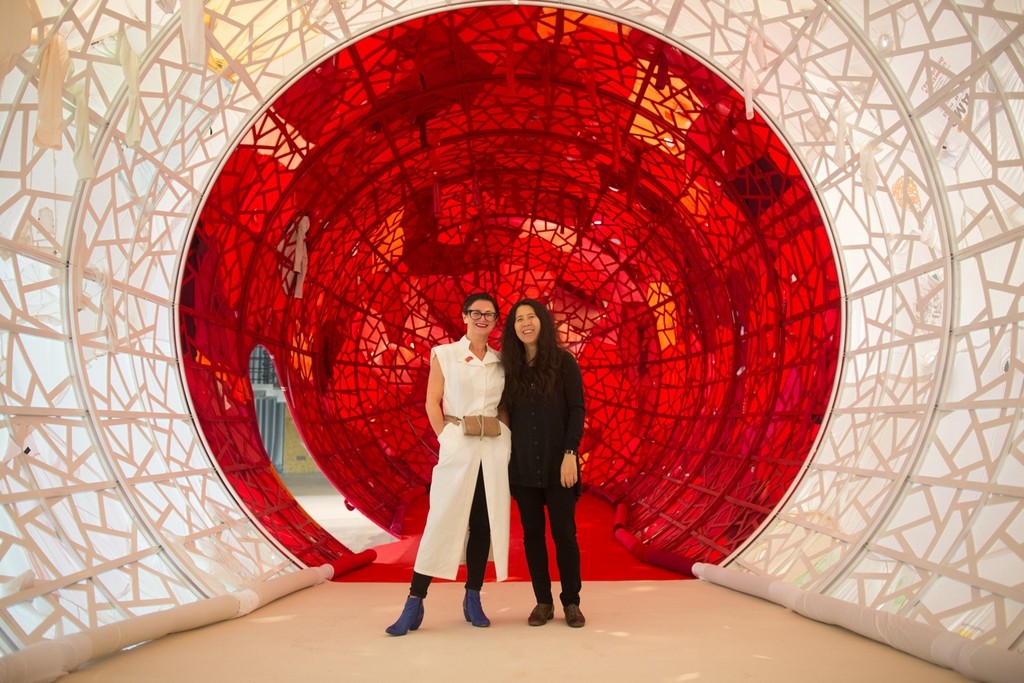 Artist Yin Xiuzhen and Slow Release project curator Snejana Krasteva, Garage Museum of Contemporary Art, 2016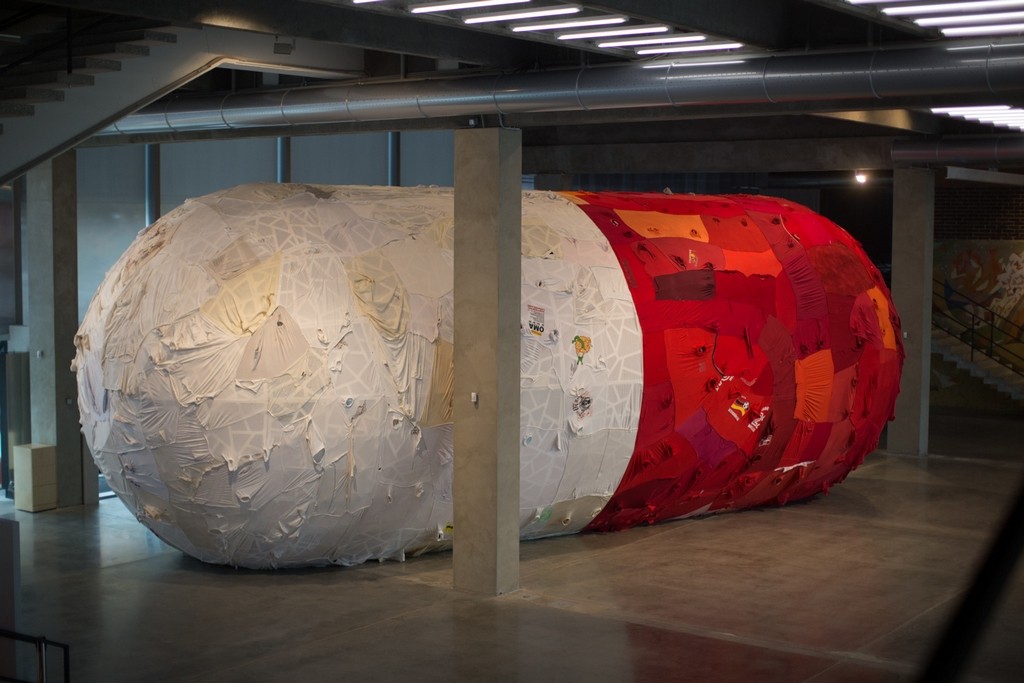 Installation view, Yin Xiuzhen, Slow Release, Garage Museum of Contemporary Art, 2016
YIN XIUZHEN
Slow Release
30 September 2016 – 8 February 2017

Yin Xiuzhen is the third artist invited to create a monumental, site-specific work for the Garage Atrium Commissions series.

For her first solo presentation in Moscow, the Beijing-based artist has produced one of the largest architectural structures she has ever made. Entitled Slow Release, the twelve-meter long installation is enveloped in more than two hundred square meters of red and white clothing, a part of which was donated by Muscovites and hand-sewn in the shape of a magnified medicine capsule.

The red and white capsule references a new generation of pills designed to reduce the speed of release of medicine in the body in order to increase its therapeutic effect. In Yin's installation, however, the role of the decelerating element is played not by the capsule, but by the outside layer of clothing which envelopes the giant structure. By allowing visitors to enter the capsule, which is covered in the kind of clothes we wear every day––our second skin, as the artist refers to them––Yin creates a situation where people can slow down and experience the effect of being inside their own body. Reflecting on the overly fast speed with which she feels society is developing, Yin addresses the complex relationship between the contemporary demand for rapid therapeutic effects and the importance of making time for prolonged rituals of self-medication. The work functions as a powerful reminder of the antidote individual human experiences can provide to the overwhelming societal drive towards progress.

Since the beginning of her career in the early 1990s, Yin has established herself as one of the leading female artists from China. She often uses second-hand objects to make installations that explore the effects of globalization and rapid urban development. Yin is particularly concerned with how global economic progress affects the lives of individuals and our collective memory. Clothing is an important building material for Yin, being associated with memories of her mother working in a garment factory in China and with belonging to a generation of people for whom clothing was something very precious. She began incorporating it in her works in 1995, creating a series of installations that dealt with the interrelationship of memory, contemporary life, and individual experience.

Organized by Snejana Krasteva, Garage Curator.

ABOUT THE ARTIST

Yin Xiuzhen was born in 1963 in Beijing, China. She lives and works in Beijing. Recent solo exhibitions include:Yin Xiuzhen: Washing River, Tasmania Museum and Art Gallery, Hobart, Australia (2014); Nowhere to Land, Pace Beijing, Beijing, China (2013); Yin Xiuzhen, Groninger Museum, Groningen, Netherlands (2012); Project 92, Museum of Modern Art, New York, USA (2010). Recent group exhibitions include: Chinese Utopias Revisited: The Elephants, BOZAR, Brussels, Belgium (2015); What Models Can Do, Museum für Gegenwartkunst Siegen, Siegen, Germany (2014); the 5th Moscow Biennale of Contemporary Art, Moscow, Russia (2013). The artist has received a range of prestigious awards including the China Contemporary Art Award (CCAA) and the UNESCO/ASCHBERG award in 2000.

Garage Atrium Commissions provide opportunities for artists to develop site-specific artworks for the Entrance Hall of the Museum. The first series of its kind in Russia, the commissions respond to the scale of the 9.5-meter (31ft) high, 10-meter (33ft) wide space, which can be viewed from all floors of the building. Presented twice a year, in spring and fall, the series has included new works by Erik Bulatov (June 2015), and an installation by Rashid Johnson (spring 2016). Forthcoming in fall 2016 is a new work developed by Chinese artist Yin Xiuzhen.