Amazing! Clever! Linguistic!
18 Jan - 21 Apr 2013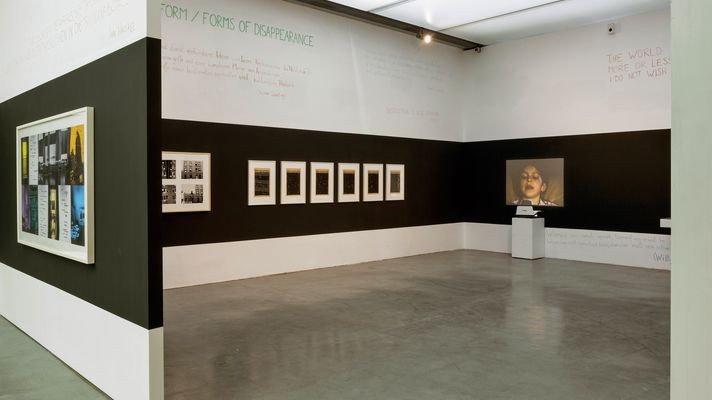 Exhibition view:
Amazing!, Clever! Lingustic! An Adventure in Conceptual art, 2013 Foto: Margherita Spiluttini
AMAZING! CLEVER! LINGUISTIC!
An Adventure in Conceptual Art
Curated by Guillaume Désanges
18 January - 21 April 2013

To mark the 25th anniversary of the Generali Foundation, three international curators—Guillaume Désanges, Helmut Draxler, and Gertrud Sandqvist—will each organize a show using a unique presentation format to shed light from individual angles on the Generali Foundation's collection, its institutional and exhibition policies, and hence its contribution to historiography on the basis of institutional work. Additional discussions and lectures taking place throughout this anniversary year will take their cue from the curators' different personal approaches, the questions they raise concerning the definition of what is called Concept (Conceptual) art and what it means to collect and curate it, and their reflections on the relationship between Conceptual and historical display strategies and the artworks themselves. The first show is by French curator and critic Guillaume Désanges.
I think art is the only political power, the only revolutionary power, the only evolutionary power, the only power to free humankind from all repression. I say not that art has already realized this, on the contrary; and because it has not, it has to be developed as a weapon – first there are radical levels, then you can speak about special details. Joseph Beuys, in Avalanche Newspaper, May/June 1974

One of the limitations of history as a discipline is that the material persistence of the documents blinds it to the exigency of their resurrection. Jalal Toufic, The Withdrawal of Tradition Past a Surpassing Disaster, 2009
The emergence of Conceptual art in the late 1960s was a unique intellectual and aesthetic adventure that drew on the most refreshing sources of the 20th century—a revolution of forms and of intelligence that won the semantic and ideological battle in spite of its alleged shortcomings and failings, quietly imposing a new politics of seeing. This elementary force, as subliminal as it was powerful, made a lasting impact on relations between time and space, mind and body, art and life, function and contingency.
Invited to devise an exhibition on the Generali Foundation collection, a collection based on Conceptual art that examines what is at stake in this movement, instead of adding yet another theoretical layer I wanted to take an approach based on love and admiration. I wanted to go directly to the core of the matter, in a spirit of sharing and celebrating rather than trying a renewal of critical perspectives. In an urgent, desiring, and nonhierarchical way, unfolding the movement's theoretical, aesthetic, political, and poetic aspects. Approaching from a position of overdrive and saturation, using a strategy less selective than elective—in all of Conceptual art's various but not conflicting senses. Creating a cognitive and sensory epic, in a mode more narrative than discursive, taking as my model mass-audience exhibitions in a historical, scientific, or educational vein—a mix of wonder and knowledge, science and exoticism, didacticism and propaganda.
For a curator, each exhibition may be a new situation, a way to challenge the obvious and find a form that syncopates the rhythm with its topic. In this case, it was about answering the question of what it might mean to curate "conceptually." This could involve working in the register of "deskilling," a concept that has existed since modernism and that saw a resurgence in the context of Conceptual Art, opposing academic discipline with a certain kind of amateurism. Deskilled curating means avoiding reflexes and the temptations of virtuosity, with the goal of reconnecting with the spirit of freedom, and risk-taking that animated the pioneers of Conceptual art. This curatorial reterritorialization is implemented here in an openly transitive exhibition, in the utopian hope of addressing a broad audience, bypassing the filter of professional art-world codes. The objective is to offer an experience via a scenography based on density and generosity, in a desperate attempt to bring order into the chaos of concepts and approaches. From "expanded intelligence" to the "extraordinariness of the everyday," from the "spatiotemporal revolution" to the "beauty of the layout," works from the collection are repositioned playfully but precisely within a network of references, paratexts, images, slogans, objects, artifacts, and commentaries that are more or less spontaneous, more or less accurate, more or less objective, without making any concessions in terms of demandingness or complexity. An updated celebration in exhibition mode, bearing in mind that this incredible adventure is based on a true story.
(Guillaume Désanges)
With works by Robert Barry, Gottfried Bechtold, Marcel Broodthaers, Ernst Caramelle, Lili Dujourie, VALIE EXPORT, Andrea Fraser, Bruno Gironcoli, Dan Graham, Hans Haacke, Sanja Iveković, Jarosław Kozłowski, Richard Kriesche, Friedl Kubelka, Dóra Maurer, Gordon Matta-Clark, Dennis Oppenheim, Ewa Partum, Adrian Piper, Martha Rosler, Gerhard Rühm, Allan Sekula, Goran Trbuljak, Ian Wallace, Peter Weibel, Franz West, and others.
Guillaume Désanges is a curator and critic. He founded Work Method, an agency for curatorial projects in Paris. He was on the editorial staff of the art magazine Trouble, is a regular contributor to Exit Express and Exit Book in Madrid, and has coordinated art projects for Les Laboratoires d'Aubervilliers (2001–07). He has developed several performative lectures including A History of Performance in 20 Minutes (Centre Pompidou, Paris; De Appel, Amsterdam; Mac/Val, Paris; U-Turn, Copenhagen; Artists Space, New York), Vox Artisti, His Masters' Voices (Halles de Schaerbeek, Brussels; Bétonsalon, Paris; University of Chicago), Signs and Wonders Theory of Modern Art/Theorem of Damned Art (Tate Modern, Centre Pompidou). Many exhibitions, including Pick-Up (Public, Paris, 2004; STUK, Löwen, 2008), Untouchable (The Transparency Ideal) (Villa Arson, Nice; Museo Patio Herreriano, Valladolid, 2006–07), Jirí Kovanda vs The Rest of the World (gb agency, Paris; De Appel, Amsterdam; Centre d'Art Santa Monica, Barcelona, 2006–07), Child's Play (Biennale Periferic, Iasi, Romania; Nam June Paik Center, Seoul, 2008–09), Michel François, Plans for Escape (SMAK, Ghent, 2009), Erre with Hélène Guenin (Centre Pompidou-Metz, 2012).