WINTER IS COMING
(Homage to the Future)
09 Sep - 23 Dec 2016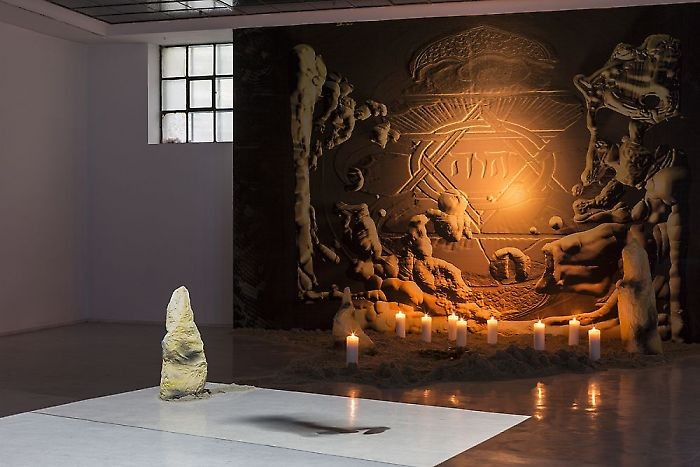 Joey Holder, Tetragrammaton, 2016
wall print, lighting, rubber snake, hookah pipe, sand, spell, candles, sand, papier mâché, dimensions variable
photo: Matthias Bildstein
Courtesy Georg Kargl Fine Arts, Vienna
WINTER IS COMING
(Homage to the Future)
09 September – 23 December 2016

Curated by_Maria Arusoo

Andreas Angelidakis | Merike Estna | Michael Gumhold | Joey Holder | Kolbeinn Hugi | Kris Lemsalu | Jaakko Pallasvuo | Natasha Papadopoulou | Angelo Plessas | Agnieszka Polska | Triin Tamm

"After the Summer of the Greek humiliation, came
the Autumn of rejected migration, then the Winter
of European disintegration, before at last the Spring
of Donald Trump."* Franco Bifo Berardi

We are living in a dystopian present in which things are now so fetid that it is no longer possible to look away from the current crises and growth in xenophobia. The great and empowering promise of 'the future' is dissolving, and we are being forced to alter our belief systems repeatedly within condensed frames of time.

In our neo-liberal society — where with each step you take you are forced into individualism and self-management, and are overtaken by the contemporary drive for acceleration — we are experiencing a generational loss of knowledge about what it means to be part of a community with shared goals.

In the exhibition WINTER IS COMING (Homage to the Future) at Georg Kargl Fine Arts, loss is a recurring theme, and forms the basis for a dialogue around subjects including the collapse of systems, nomadic experiences, myths, belonging and meaning. A number of the participating artists work in search of alternative subsystems and meta-languages, where Net, bio-technology or ancient myths are used as mediums through which to explore humankind's place in the world. The works playing with ancient myths and current meltdowns create a psychogeography of bio-futuristic and techno-animist settings, partly observing situations in the distance and partly attempting to reimagine ways of reconnecting with each other—a search for a meaningful ecosystem.

The exhibition is presented as a rhizomatic platform whose range covers a number of territorial oppositions: the expanded environment of the internet and the offline sphere; new technologies and the concerns of ancient humans; political awareness and escape; dystopia and utopia. The exhibition is intended as a complex entity, and brings these works together in aim of expanding thought on the limits of togetherness, connectivity and the potentials for adopting invented communities.

Text:
Maria Arusoo (*1983 in Tallinn) is an artistcurator currently working as the Director of the Center for Contemporary Arts Estonia and the Commissioner of the Estonian Pavilion at Venice Biennial.