Karin Sander
Zeigen. An audio tour through the collection of the GfZK Leipzig
18 Mar 2017 - 14 Jan 2018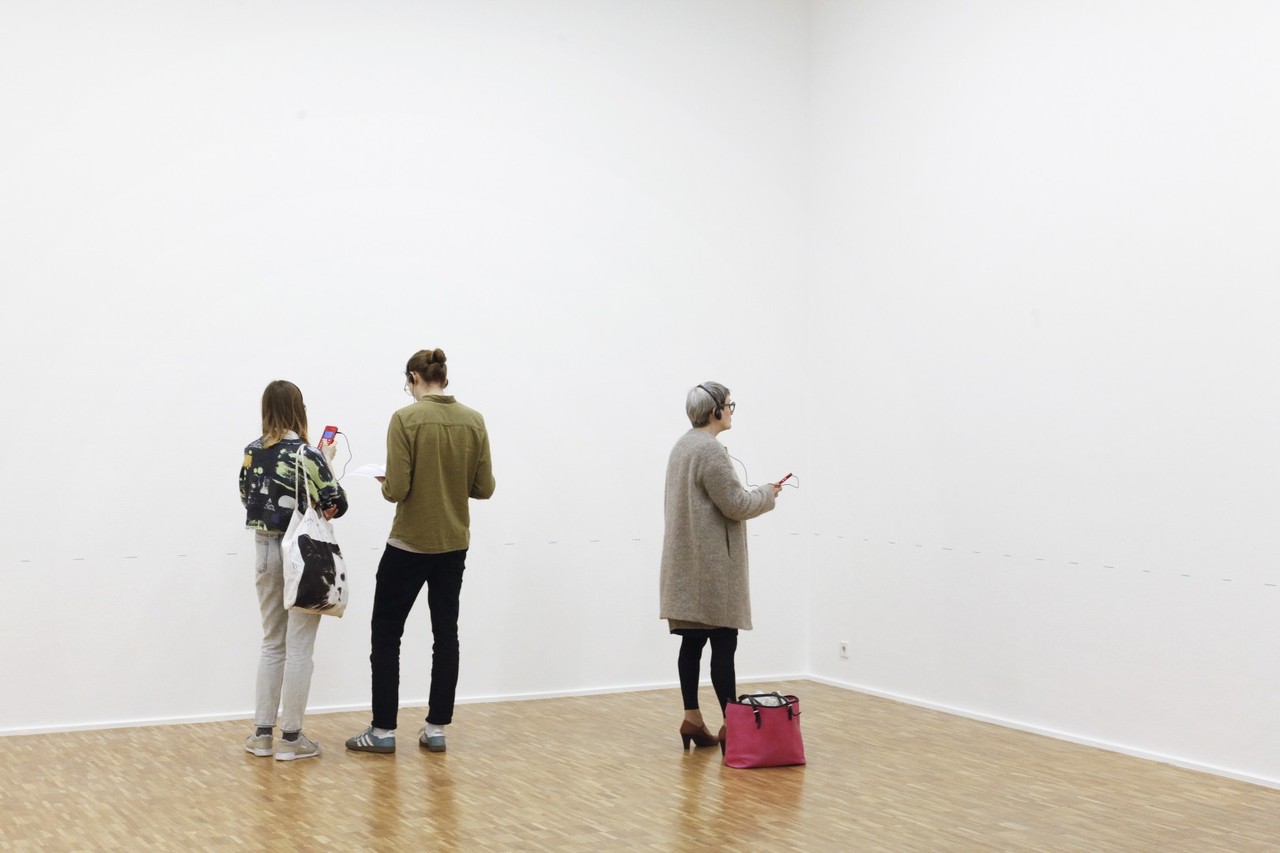 Karin Sander: ZEIGEN. Eine Audiotour durch die Sammlung der Galerie für Zeitgenössische Kunst, Leipzig, 2017. Foto © Galerie für Zeitgenössische Kunst, Leipzig, 2017 Courtesy of the artist, Esther Schipper, Berlin, Galerie nächst St. Stephan, Wien, Galería Helga de Alvear, Madrid / VG Bild-Kunst, Bonn, 2017
Zeigen. An audio tour through the collection of the GfZK Leipzig

Franz Ackermann, Birgir Andrésson, John Armleder, Silvia Bächli, John Baldessari, Oliver Boberg, Monica Bonvicini, Björn Braun, Jan Brokof, Hans Brosch, Erik Bünger, Angela Bulloch, Holger Bunk, Stefanie Busch, Luis Camnitzer, Nina Canell & Robin Watkins, Ernst Caramelle, Nathan Coley, Tony Cragg, Natalie Czech, Josef Dabernig, Carola Dertnig, Regula Dettwiler, Auke De Vries, Jason Dodge, Antje Dorn & Lukas Lonski, Markus Draper, Felix Droese, Sven Drühl, Alba D'Urbano & Tina Bara, Jimmie Durham, Hartwig Ebersbach, Bogomir Ecker, Ayse Erkmen, Till Exit, fabrics interseason (Johannes Schweiger), Andrea Faciu, Nina Fischer & Maroan El Sani, Sylvie Fleury, Thomas Florschuetz & Clara Guagliardi, Gunda Förster, Dieter Froelich, Dani Gal, Martin Gerwers, Karl Otto Götz, Tamara Grcic, Martyn Greenhalgh, Özlem Günyol & Mustafa Kunt, Beate Gütschow, Alexander Györfi, Henrik Håkansson, Bernhard Härtter, Mona Hatoum, Eberhard Havekost, Swetlana Heger & Billy Davis, Jeppe Hein, Lothar Hempel, Anton Henning, Franz Hitzler, Klara Hobza, Candida Höfer, Olaf Holzapfel, Andy Hope 1930 (Andreas Hofer), Fabrice Hybert, Katharina Immekus, John Isaacs, Christian Jankowski, Franziska Jyrch, Wolf Kahlen, Johanna Kandl & Helmut Kandl, Petra Kasten, Jens Klein, Stefan Knechtel, Takehito Koganezawa, Mischa Kuball, Michael Kunert, Pia Lanzinger, Jozef Legrand, Kristina Leko, Jochen Lempert, Via Lewandowsky, L. Marcellvs, Allan McCollum, Jonathan Meese, Michaela Meise, Michaela Melián, Florian Merkel, Ralph Merschmann, Harald Metzkes, Bea Meyer, Nanne Meyer, Matt Mullican, Yves Netzhammer, Carsten Nicolai, Olaf Nicolai, Astrid Nippoldt, Hermann Nitsch, Cecile Noldus, Ronald Noorman, Osmar Osten, Hanno Otten, Manfred Pernice, Peter Piller, Tadej Pogačar, Peter Pommerer, Tobias Rehberger, Inken Reinert, Peter Riedlinger, Gerwald Rockenschaub, Maren Roloff, Ugo Rondinone, Hella De Santarossa, Roland Schappert, Silke Schatz, Antje Schiffers, Hanns Schimansky, Tilo Schulz, Maya Schweizer, Wiebke Siem, Katharina Sieverding, Klaus Simon, Škart group, Kiki Smith, solitaire factory, Heidi Specker, Juergen Staack, Thomas Stimm, Thomas Struth, Superflex, Sarah Sze, Wolfgang Thaler, Gert & Uwe Tobias, David Tremlett, Timm Ulrichs, Koen Vanmechelen, Klaus vom Bruch, Friedemann von Stockhausen, Corinne Wasmuht, Lawrence Weiner, Susanne Weirich, Simone Westerwinter, Sandra Schuck & Uwe Schenk, Johannes Wohnseifer, Haegue Yang, Katsutoshi Yuasa, Vadim Zakharov, Markus Zimmermann, Otto Zitko, Heimo Zobernig, Moira Zoitl

For her project ZEIGEN. An audio tour, Karin Sander invited artists whose work is featured in the collection of the Museum of Contemporary Art Leipzig (GfZK) to make an acoustic contribution, with the aim of translating their own work into something audible – and also visible – for the museum's visitors. The names of the approximately 150 participating artists are installed on the white walls of the otherwise "empty" exhibition space, along with a number, allowing visitors to select individual contributions using an audio guide. The works, imagined in various ways, arise inside the heads of the visitors, gaining an enormous presence in spite of their physical absence.

Karin Sander's exhibition project ZEIGEN. An audio tour, which she initiated in 2004, is based on an audible collection of works compiled by the artist for individual locations. It has been shown in various museums and institutions including Schirn Kunsthalle Frankfurt, Temporäre Kunsthalle Berlin, Abteiberg Museum Mönchengladbach, Nikolai Konsthall Copenhagen and Kunsthalle Karlsruhe.

Karin Sander, born in Bensberg, Germany, studied Fine Art and Art History at the Art Academy Stuttgart and I.S.P., Whitney Museum, New York.

She received numerous grants and awards, to include a DAAD scholarship New York, Kunstfonds Bonn, The Villa Romana Prize, Florence, Cité Internationale des Arts, Paris, Akademie Schloss Solitude, Stuttgart, Hans-Thoma-Preis, Großer Staatspreis des Landes Baden-Württemberg as well as Deutsche Akademie Rom Villa Massimo.

Her works have been shown in numerous international exhibitions and are included in private and public art collections, such as The Museum of Modern Art, New York and San Francisco, The Metropolitain Museum of Art, New York, National Museum of Art, Osaka, Kunstmuseum St. Gallen, Staatsgalerie and Kunstmuseum Stuttgart, and Hirshhorn Museum Washington.

Karin Sander holds a professorship for Architecture and Art at ETH Zurich. She lives and works in Berlin and Zurich.

Karin Sander presents ZEIGEN. An audio tour through the collection of the GfZK Leipzig.