Up Till Now
Reconsidering historical performances and actionist art from the GDR
09 Mar - 26 May 2013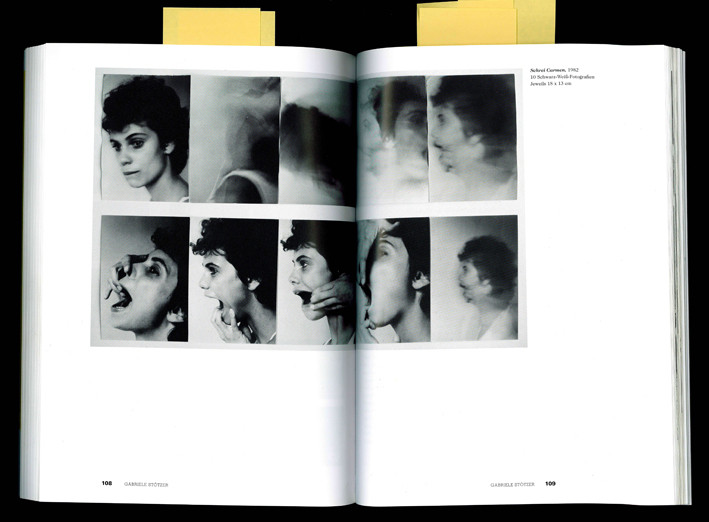 Gabriele Stötzer
"Schrei Carmen", 1982
10 s/w Fotografien; Scan aus "und jetzt. Künstlerinnen aus der DDR". Ausstellungskatalog. A. Richter, B.E. Strammer, B. Knaupp (Hg.), Verlag für moderne Kunst Nürnberg 2009, S.109
Barbara Büscher, University of Music and Theatre, Leipzig, Jörg Herold, artist, Leipzig, Ana Hoffner, artist and cultural scientist, Wien (AT), Stefan Hurtig, artist, Leipzig, Thomas Janitzky, artist, Leipzig, Barbora Klímová, artist, Brno (CZ), Via Lewandowsky, artist, Berlin, Elske Rosenfeld, artist, Berlin/Wien (AT), Gabriele Stötzer, artist, Erfurt /Utrecht (NL), students of the University of Music and Theatre Leipzig and the Leipzig Academy of visual arts et al.
curated by Anna Jehle and Julia Kurz
The research and exhibition project "Up Till Now" plans an examination and contemporary reconsideration of performative art and actionist art from the GDR, opening with the presentation of the work "Replaced" (Brno 2006) by Barbora Klímová and a (research)archive that will continue to grow during the exhibition. In parallel, the artists Ana Hoffner, Stefan Hurtig, Thomas Janitzky and Elske Rosenfeld will develop new performances and installations, to be seen in the exhibition from April on.
In a direct exchange with artists working performative during the GDR era, Jörg Herold, Via Lewandowsky / Autoperforationsartisten and Gabriele Stötzer / Exterra XX, around whose works the archive in the exhibition space is continuously extended, the invited artists intertwine their own practice with the historical material. The newly produced works will find their origin in the current research and textproduction and the artists' theoretical considerations.
During the public panel "Encountering Performance", taking place on the 5th and 6th of April 2013, the visitors of the GfZK are invited to enter into a dialogue with all the participating artists. Through round table discussions and screenings an inside view is granted into the artistic strategies and approaches of the GDR artists and, through the reconsideration thereof, their reach into contemporary discourse.
All the current dates for the round table discussion, performances as well as additional events, lectures, screenings and workshops in the frame of "Up Till Now" can be found at
research-uptillnow.tumblr.com
.