Martijn Hendriks
20 May - 25 Jun 2011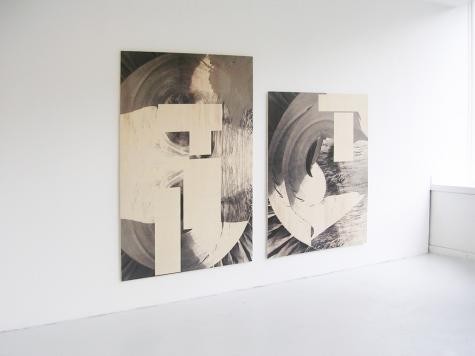 © Martijn Hendriks
From left: Untitled (How to work I), 2011, Untitled (How to work II), 2011
UV pigment print on poplar wood, 122 x 189 cm and UV pigment print on poplar wood 122 x 156 cm, both unique
MARTIJN HENDRIKS
Almost Nothing and Almost Everything
20 May - 25 June, 2011

Martin van Zomeren is pleased to present 'ALMOST NOTHING AND ALMOST EVERYTHING', by Dutch artist Martijn Hendriks.

Martijn Hendriks' work is driven by an ongoing investigation of the possibilities and impossibilities of abstraction. Confronting the art historical legacies of abstraction and the formal vocabulary of minimalism within ever-shifting contexts and a range of different media, the artist brings these legacies into a process of continuous reconfiguration. Forms and gestures are passed from one medium or material to another, are reconfigured, copied, reproduced, and appear in different versions. Through sculptures, paintings, prints and videos, his work continuously departs from and returns to the basic conditions under which works of art are produced, how they function and perform.

The exhibition brings together a number of works that explore relations between abstraction and process. At the centre of the exhibition is a series of large format panels that reflects the artist's ongoing dialogue with conceptions of painting, often by means other than traditional painterly methods or materials. The series originates from an attempt to think through the possibility of a monumental visual language within a contemporary practice. Taking a single found image as the source material for a process of collage and repeated reworking, and printing the results directly onto sheets of wood, the series seeks out the conditions under which images attain value or monumentality while losing their reference and context.

Martijn Hendriks (b. Netherlands, 1973) lives and works in Amsterdam. His work has been exhibited in Europe and the United States. Recent exhibitions include 'Memery' at the Massachusetts Museum of Contemporary Art -MASS MoCA (2011), 'Free' at the New Museum, New York and 'Smooth Structures' at Smart Project Space, Amsterdam (both 2010), among others. This is his first solo show at the gallery.