Thomas Mulcaire
03 Jul - 21 Aug 2011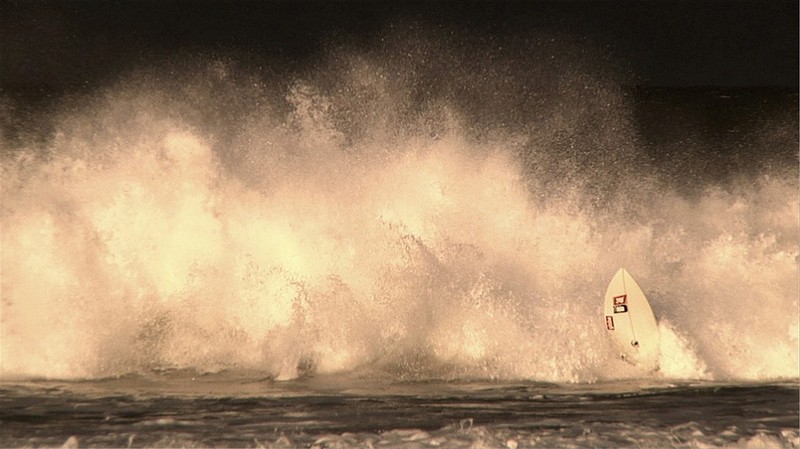 © Thomas Mulcaire
Afrika (Fanta Wipe-Out 7), 2011
Ultrachrome print from high-definition video
67.7 x 38.1 cm
THOMAS MULCAIRE
Light and Variable Winds With A Large Long Period Swell
3 July - 21 August, 2011

During the 2010 FIFA World Cup in South Africa,Thomas Mulcaire and Ricardo de Oliveira created Afrika – a film inspired by Timothy Leary's proclamation that humankind was evolving towards a purely aesthetic state, and that surfing is the embodiment of this process. Following a group of Brazilian surfers on a road trip around Southern Africa, the film explores this notion through their dynamic encounters with a new and multifaceted part of the world.

Along the way they visit memorial sites to Samora Machel and Hector Pieterson, witnessing a new generation picking up ideals from the past and reinvigorating the struggle. They visit surfing Mecca – Jeffrey's Bay, joining in on a protest against a nuclear power station that threatens to destroy what are universally known as the world's most perfect waves. They watch Brazil get knocked out of the World Cup in Port Elizabeth and then continue to do what they came for – surf.

What is ultimately a documentary of this spirited journey; the film also references the genre of 1970s surf movies. It is bilingual, featuring Portuguese and English, as well as subtitles in both languages. A TV documentary version of the film featured on Brazilian MTV earlier this year. Afrika was shot in high definition and as a result Mulcaire and de Oliveira produced a series of photographic prints that deconstruct the film into its component parts, which they are presenting as part of their exhibition at Goodman Gallery projects titled LIGHT AND VARIABLE WINDS WITH A LARGE LONG PERIOD SWELL. People familiar with shipping forecasts will recognise this phrase as representing epic conditions for surfing. The exhibition will also feature a wall piece and a series of sculptures and will run until 21 August 2011.

Afrika features Brazilian surfers Cassio ,Sanchez, Fernando Fanta, James Santos and Mario Massarelli, with guest appearances by Bruce Gold, Derek Hynd, Khayelihle Ncgobo, Bright Ntuli and Mbongeni Hlengwa. Original score by Shelby Gaines and Firstborn. Music by David Marks, Bailterspace and Eliza Callahan. Cinematography by Pablo Aguiar, Justin Healy, Ricardo Carioba, Mauricio Granado, Bobby de Beer, Paul van Jaarsveld. Edited by Duco Coops.

The artists have also created an interrelated sculpture during their residency at the Nirox Foundation titled Point Break. The work can be viewed by appointment.