Seth Siegelaub
08 Jun - 11 Aug 2013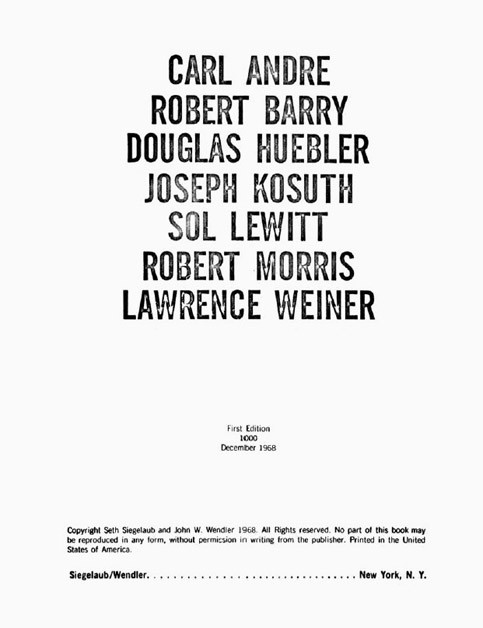 A page from 'Carl Andre, Robert Barry, Douglas Huebler, Joseph Kosuth, Sol LeWitt, Robert Morris, Lawrence Weiner,' also known as the 'Xerox Book,' edited by Seth Siegelaub, Dec. 1968.
SETH SIEGELAUB
The Members Library
8 June – 11 August 2013

A selection of publications produced by collector, researcher and curator Seth Siegelaub.

Seth Siegelaub was a seminal figure in the Conceptual art movement of the 1960s and 1970s. Siegelaub organized twenty-one exhibitions, publications and projects in North America and Europe between February 1968 and July 1971, working closely with artists such as Carl Andre, Robert Barry, Douglas Huebler, Joseph Kosuth, and Lawrence Weiner in a wide range of innovative formats, before largely withdrawing from the art world in 1972. His curatorial work took place both in physical spaces and, most significantly, in the form of books, in which he re-defined the exhibition catalogue itself as the exhibition. Siegelaub's approach mirrored the Conceptual art movement by raising important questions about the making, display, ownership, distribution and selling of works of art. Alongside a selection of these publications, a collection of books on textiles also produced by Siegelaub will be presented.

*The Members Library is constructed and designed by artist Céline Condorelli in collaboration with Harry Thaler as a permanent work entitled Things That Go Without Saying. The structure she had built for The Members Library is part of a series entitled Additionals. These different prop-like objects, quasi- functional structures, operate at a scale between furniture and architecture.