Fergus Feehily
10 Oct - 15 Nov 2008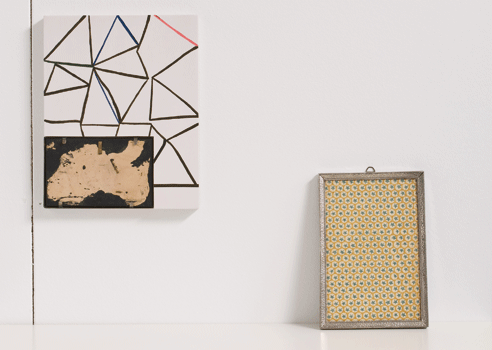 © Fergus Feehily
Country (2008)
Oil on wood and found frame 25 x 20 x 2 cm and
North Star (2008) found frame, book cover, acrylic on MDF 20 x 14 x 1 cm
FERGUS FEEHILY
"Strange Mountain (Makeshift)"

10 Oct - 15 Nov 2008

When we asked Fergus Feehily to make something for our pages in the book that will form part of the NADA Art Fair Miami in December this year, he chose to make a shadow as a work – recorded in a photograph, something that at once was being made and disappearing. There is an offhand exactitude in this action that we can recognize in his work more generally, a specificity, where things are just so. Regarding this sense of specificity, the artist has pointed to the Labyrinthine work of the Argentine writer Jorge Luis Borges and his story Tlön, Uqbar, Orbis Tertius, in which Borges describes the language of the imaginary region Tlön: "The noun is formed by an accumulation of adjectives. They do not say 'moon', but rather 'round airy-light on dark' or 'pale-orange-of-the-sky' or any other such combination. ... The literature of this hemisphere... abounds in ideal objects, which are convoked and dissolved in a moment, according to poetic needs. At times they are determined by mere simultaneity."

The found, made, collected, manipulated, glued, pressed and pinned all play a role in the ever-growing vocabulary that makes up Feehilys recent practice. His modestly sized works throw up surprises at every juncture, with pieces shifting into all sorts of previously unimagined directions. One such direction is the making of an ongoing series of artists' books — Feehily refers to them as pamphlets — they include the recently published Cloud Management and Book No 4a.

Feehily's paintings offer a consciously visual and at the same time haptic experience that resists categorization, one that he has expressed a certain reticence to over-explain.Yet we can recognise through the work certain concerns both new and returned to, air and mass, lightness and gravity, a sense of aspiration and the friction between the intuitive and the ordered, with all their inherent paradoxes. Feehily's work, not unlike the story by Borges (or any story by Borges) loops back to the same concerns time and time again, yet through this recurring examination expands to allow ever more of the world into the work.

This show presents a new roughness (used advisedly) in Feehily's practice, that these strange works are made by hand is not hidden, rather it seems to be relished by the artist. Feehily's casual precision is explored by Declan Long in his text for the accompanying catalogue to Makeshifts and Endpapers, the artist's recent Kunstverein show in Germany: "He self-consciously combines painterly diligence, intelligence and sophistication with an astute insouciance, the result of which is a compellingly scrupulous imperfection: formal rigour meeting playful, chaotic looseness; intensive, elegant abstraction merging with cryptic, ingeniously disruptive elements of representation."

Recent solo exhibitions include the aforementioned Makeshifts and Endpapers, Neuer Aachener Kunstverein, Aachen, 2008, Small Inventories, Jack Hanley Gallery, San Francisco, A Darker Definition, Galerie Christian Lethert, Cologne, Late Eighty-Six, The Return at the Goethe Institut, Dublin, all 2007. Group exhibitions include Here's Why Pattern's, Misako & Rosen, Tokyo, Zu Gemeinschaften, Künstlerhaus Stuttgart, 2008, The Show's So Nice, Monya Rowe, New York and (I'm Always Touched) By Your Presence, Dear: New Acquisitions, Irish Museum of Modern Art both 2007.