A Year with Children 2010
14 May - 20 Jun 2010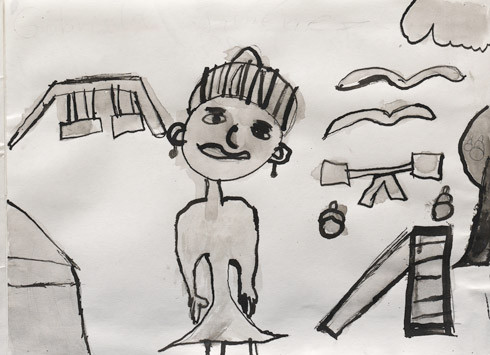 Student artwork, 3rd grade, PS 88, Queens, New York, 2010. Teaching artist: Antonia Perez. Photo: Kristopher McKay
A YEAR WITH CHILDREN 2010

May 14–June 20, 2010

A Year with Children 2010 showcases art by students participating in Learning Through Art (LTA), an educational program of the Guggenheim Museum. LTA places professional teaching artists into New York City public elementary schools, where they collaborate with classroom teachers to develop art projects that teach students art skills and techniques, and explore ideas and themes related to the school curriculum. The program encourages curiosity, critical thinking, and ongoing collaborative investigation. Additionally, LTA immerses students in the artistic process, encouraging them to view themselves as artists. Each student is given a sketchbook and an artist's apron, and throughout the program, teaching artists expose students to practices and explorations similar to those in which they are engaged.

This year's exhibition features a variety of works, and aims to illuminate what it means for students to think like artists. The pieces on view will show how students engaged in the artistic process by reflecting, imagining, and responding to questions such as, "How do societies create structure?" "What is the relationship between individuals and community?" "What risks are worth taking?" "How do relationships affect us?" and "How do objects tell stories?" While creating their art projects, students explored and experimented with selected materials and techniques, including drawing, printmaking, photography, clay sculpture, painting, assemblage, collage, and architectural models.

During the 2009–10 school year, students visited the museum several times to engage in inquiry-based discussions that encouraged careful observation and thoughtful interpretation. During their visits, the students toured special exhibitions such as Kandinsky; Anish Kapoor: Memory; Intervals: Kitty Kraus; Paired, Gold: Felix Gonzalez-Torres and Roni Horn; as well as galleries featuring the Guggenheim's permanent collection.

This exhibition is made possible in part by Gail May Engelberg and The Engelberg Foundation, as well as the Seth Sprague Educational and Charitable Foundation.

The Host Committee and Sponsors for A Year with Children 2010 are gratefully acknowledged.

Educational activities are made possible by The Edith and Frances Mulhall Achilles Memorial Fund, The Barker Welfare Foundation, Con Edison, The Engelberg Foundation, William Randolph Hearst Foundation, Jane A. Lehman and Alan G. Lehman Foundation, The Overbrook Foundation, the Hilla von Rebay Foundation, the Mortimer D. Sackler Family, Esther Simon Charitable Trust, and the museum's Education Committee.

Support for Learning Through Art is provided by the Milton & Sally Avery Arts Foundation, Inc., Citi Foundation, Sidney E. Frank Foundation, Gap Foundation, Horace W. Goldsmith Foundation, Guggenheim Partners, LLC, New York City Department of Cultural Affairs, New York State Council on the Arts, the United States Department of Education, and Arthur Zimtbaum Foundation.

Learning Through Art was founded in 1970 by Natalie K. Lieberman in response to the elimination of art and music programs in New York City public schools. Since its inception, Learning Through Art has served nearly 147,000 children and their families, primarily in New York City public schools.