Family Pictures
09 Feb - 16 Apr 2007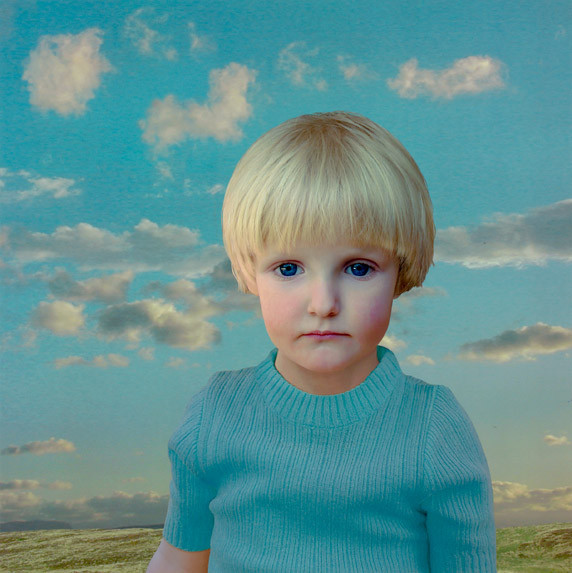 Loretta Lux, Isabella, 2001. Silver dye bleach print (Ilfochrome), mounted on aluminum, A.P. 2/3, edition of 7, 19 5/8 x 19 5/8 inches. Solomon R. Guggenheim Museum, New York. Purchased with funds contributed by the Photography Committee and the Harriett Ames Charitable Trust. 2004.79. © Loretta Lux
Featuring works drawn from the Guggenheim museum's permanent collection, Family Pictures explores the representation of families and children in contemporary photography and video. Since its inception in the mid-19th century, photography has always been used to represent the bonds of family, whether through portraiture or documents of important milestones like weddings. In these images, fleeting moments of childhood are captured and preserved, and the family unit is fixed for posterity.

Many contemporary artists create portraits of children—often their own—in works that expand on photography's vernacular tradition as well as the representation of youth in the history of art. Other artists look to harness the power of childhood memory in adult life through fictionalized renditions of past traumatic events; in order to plumb psychological truths, these artists portray a more revealing image of family dynamics and the emotional tone of childhood.
Family Pictures includes both documentary-style and more clearly staged or manipulated work by 16 artists: Janine Antoni, Patty Chang, Gregory Crewdson, Rineke Dijkstra, Nathalie Djurberg, Anna Gaskell, Nan Goldin, Loretta Lux, Sally Mann, Robert Mapplethorpe, Tracey Moffatt, Catherine Opie, Collier Schorr, Thomas Struth, Hellen van Meene, and Gillian Wearing. A version of this exhibition, accompanied by a catalogue, was presented at the Galleria Gottardo in Lugano, Switzerland in 2005; in New York, Family Pictures includes additional artists and recent acquisitions.