Foto: Modernity in Central Europe, 1918–1945
12 Oct 2007 - 13 Jan 2008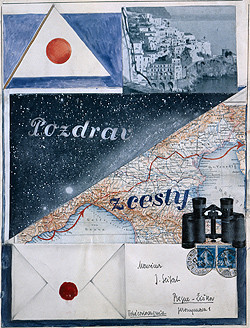 Karel Teige, Travel Greetings, 1924. Photomontage (printed matter, sealing wax, ink, and watercolor), 12 13/16 x 9 3/16 inches. City Gallery, Prague
Foto: Modernity in Central Europe, 1918–1945
October 12, 2007–January 13, 2007


Foto: Modernity in Central Europe, 1918–1945 is the first survey exhibition dedicated to the story of photography's extraordinary success and popularity in Austria, Czechoslovakia, Germany, Hungary, and Poland between the two World Wars, a period of tremendous social and political upheaval in the region and across Europe. Photography fired the imagination of hundreds of progressive artists, provided a creative outlet for tens of thousands of devoted amateurs, and became a symbol of modernity for millions through its use in magazines, newspapers, advertisements, and books. The exhibition is divided into eight thematic sections and includes more than 150 photographs, photomontages, books, and illustrated magazines by recognized masters such as El Lissitzky, László Moholy-Nagy, and Hannah Höch, as well as lesser-known contemporaries Karel Teige, Jaromír Funke, Stefan Themerson, and Kazimierz Podsadecki, among others. Taken together, the eight chapters attest to the range and dynamic output of central European photographers from 1918 to 1945 and shed light on a virtually uncharted, yet historically significant, chapter in the history of modern photography.

The exhibition is organized by the National Gallery of Art, Washington, and curated by Matthew S. Witkovsky, assistant curator of photographs at the National Gallery.